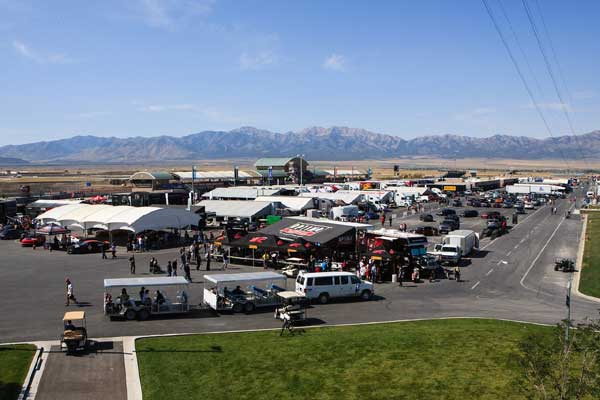 Cars at the Utah Motorsports Campus. The campus has been purchased by a subsidiary of Geely, which owns Volvo, and will be operational in January next year. PROVIDED TO CHINA DAILY
When the Utah Motorsports Campus opens on Jan 1, its new Chinese owner Geely doesn't just want business from the racetrack - it's hoping to build a multi-use facility to attract tourists and to eventually export that business plan to China, where auto racing is in its early stages.
The campus, previously known as the Miller Motorsports Park, was purchased from the Miller family when it decided not to renew its lease on the park.
MyTime, a subsidiary of Zhejiang Geely Holding Group that owns Volvo, acquired the property - which was originally priced at $110 million - for $20 million.
MyTime hopes to adapt the "American approach" to racing - which is to expand a facility so that its racetrack is not the only driver of business growth, according to Alan Wilson, vice-chairman of the Utah Motorsports Campus (UMC).
"They believe that the American approach to racing is more appropriate for the Chinese market than the European approach - which is what has been there for the last 10 years. The European way essentially focuses on the people who do the racing, whereas the American way is focused on the business of racing," he said.
"That's a crucial thing, because you invest so much money in the racetracks that you have to have a sustainable business plan that goes way beyond the actual race events," he said. "Race events are risky - if it rains, you lose all your money, for example.
"So you have to have a business approach that is multifaceted, where you have a lot of different business activities that sustain and grow the core business, which is how American tracks have been successful," he said.
The new campus, which will retain much of the previous park's management, will consist of other components. MyTime plans to add a hotel and to provide Chinese visitors with a place to stay close to the racetrack, which they hope will be a tourist destination once the Chinese are in Utah.
MyTime also will build a welcome center at the park. Staff will pick up guests at the airport, bring them to the hotel and provide concierge services, Wilson said.