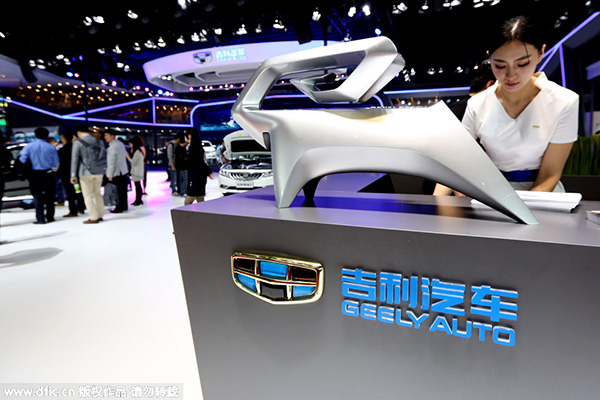 A Chinese employee is seen at the stand of Geely during the 16th Shanghai International Automobile Industry Exhibition, China, April 22, 2015. [Photo/IC]
Zhejiang Geely Holding Group Co said it will target new-energy vehicles to make up 90 percent of sales by 2020, the most ambitious plan by a Chinese carmaker so far to improve fuel efficiency ahead of a government-mandated deadline.
About two-thirds of Geely's new-energy vehicle sales will come from plug-in hybrids and gasoline-electric hybrids by the end of the decade, with the remaining from battery-electric vehicles, the company said on Wednesday.
China has a deadline requiring automakers to lower average fuel consumption across their models from 6.9 liters per 100 kilometers this year to no more than 5 liters per 100 km by 2020.
"Geely is officially stating that it will be the first automotive company in China to reach the government's vision for a 5 liter/100 km fuel directive by 2020," An Conghui, president of Zhejiang Geely, said in a statement. "We aim to allow consumers to realize their dream of driving powerful, extremely fuel efficient vehicles."
Chinese carmakers are developing hybrid and electric vehicles in order to meet government-mandated fuel economy improvements. China has made the development of EVs a strategic initiative as part of a broader push to lead in the automotive technology, curb pollution and cut dependence on imported oil. The government said last month it will boost subsidies to speed up the building of recharging stations and has banned cities from imposing purchase restrictions on new-energy vehicles.
Geely, which has been developing vehicles with Volvo Cars, also said it aims to make "substantial progress" on fuel cell vehicles by 2020, without providing details. The company started selling its first electric car on Wednesday, with a price of 228,800 yuan ($35,875) before government subsidies of about 108,000 yuan.
By 2020, Geely plans to offer its plug-in hybrid models at prices equivalent to conventional gasoline-powered vehicles. The company has enough capital to fund the development of alternative-energy vehicles and has no financing plans, An said.
Electric vehicles are held back by high costs, limited driving ranges and a shortage of charging facilities. according to a report by Bloomberg Intelligence.
China will probably focus on improving infrastructure and technology to promote sales of alternative-energy vehicles in its 13th Five-Year Plan ending 2020, said Steve Man and Ji Shi, in the report. Priorities may include building more charging stations and improving battery efficiency, they said.