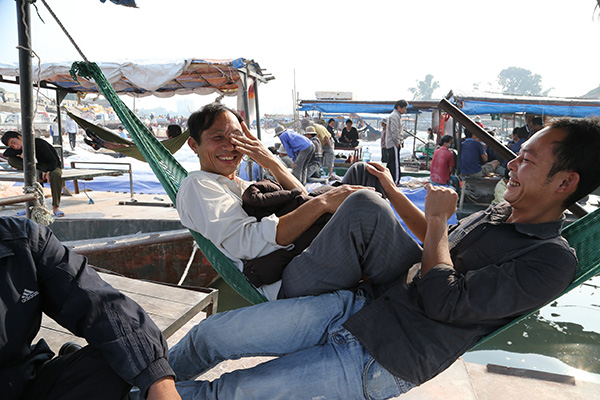 Vietnamese workers take a break at a frontier border trade area in Dongxing, Guangxi Zhuang autonomous region. [Photo provided to China Daily]
When Xiang Jiancheng started doing business in Dongxing two decades ago, trade in the China-Vietnam border city was still lukewarm.
"Only a few Chinese vendors filled the small markets in Dongxing back then," Xiang, 49, a Dongxing resident in the Guangxi Zhuang autonomous region, said.
"If you wanted to buy Vietnamese products, it was basically the Chinese vendors who bought commodities in Vietnam and sold them in Dongxing."
But these days more than 10,000 Chinese and Vietnamese walk across the border bridge every day to do business in bustling markets on both sides. In fact, business between China and Vietnam is on the rise after years of development.
Earlier this month, President Xi Jinping made his first state visit to Vietnam, which opened up new prospects for China's relations with the country and local business people.
Border trade between China and Vietnam has grown thanks to government support.
China allowed residents to conduct small-scale cross-border business in the 1990s, fueling a trade surge.
In Dongxing, the border trade zone has grown into the biggest of its kind in China, with more than 10,000 people selling seafood, agricultural products and clothes there each day.
Chinese living in the area can buy up to 8,000 yuan ($1,260) of Vietnamese goods every day without paying tariffs, which has resulted in mushrooming border transactions.
"There are about 100 Vietnamese stores at the trade center and transactions exceed 10 million yuan each day," Jiang Biao, deputy director of Dongxing's border trade management bureau, said.
To facilitate trade, the People's Bank of China in 2013 approved a pilot project for individual cross-border yuan settlement in Dongxing.
Previously settlements between the Chinese currency, and the Vietnamese dong had been conducted using the US dollar, which was inconvenient and could cause losses due to rate fluctuations.
With the new policy, cross-border workers only need to provide receipts to conduct transnational settlements for amounts less than 800,000 yuan.