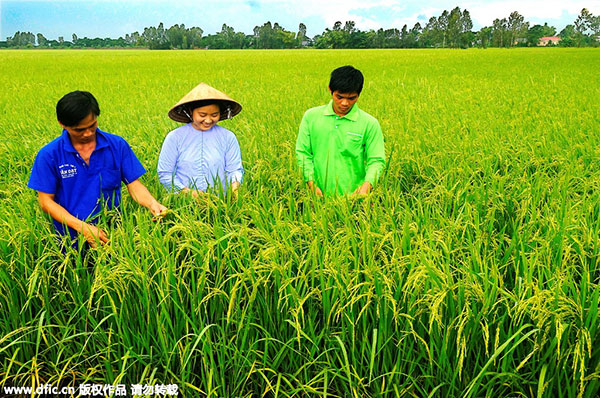 Farmers at a field near Mekong Delta, Vietnam. [Photo/IC]
China has imported $2.11 billion worth of farm products from Vietnam in the first nine months of the year, up 23.1 percent year-on-year, said Shen Danyang, spokesperson of the Ministry of Commerce, on Wednesday.
Citing figures from the General Administration of Customs, Shen said farm product exports from China to Vietnam totaled $2.39 billion in the first three quarters, up 15.3 percent year-on-year.
Agricultural products in China and Vietnam are highly complementary, Shen said. In order to promote the agricultural product trade, the two countries signed a memorandum of understanding on cooperation in the field of trade of agricultural products in 2013.
With the joint efforts of both sides, in recent years, bilateral agricultural trade developed well and saw steady growth, Shen added.
At present, Vietnam is China's sixth largest agricultural export destination, and the 10th largest source of imports of agricultural products, making them an important part of bilateral trade.
Vietnam is China's second largest trade partner in the Association of Southeast Asian Nations and China has been Vietnam's largest trade partner for 11 consecutive years.