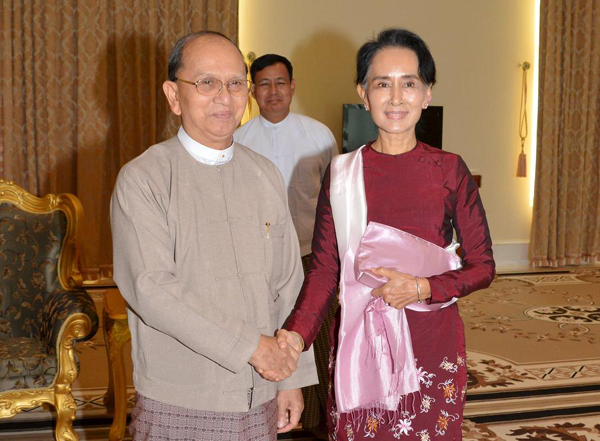 Myanmar's President Thein Sein shakes hands with National League for Democracy (NLD) party leader Aung San Suu Kyi in Naypyitaw December 2, 2015. [Photo/Agencies]
NAY PYI TAW -- Myanmar President U Thein Sein met Aung San Suu Kyi, chairperson of the election-winning opposition National League for Democracy (NLD), for a dialogue, in Nay Pyi Taw's Presidential Palace Wednesday morning.
The dialogue, believed to have touched on the country's post-election government transition matters, took place in response to a request by Suu Kyi in her letter to U Thein Sein on Nov 11 after her party won a landslide in the Nov 8 general election.
Details about their talks are not immediately available.
The meeting came after her prior talks with U Shwe Mann, speaker of the Union Parliament and House of Representatives (Lower House), on Nov 19, in which the pair agreed to place emphasis on national reconciliation and consolidation in forming parliament of the next term through coordination and cooperation.
Later in the day, Suu Kyi is also scheduled to meet Commander-in-Chief of the Defense Services Senior-General Min Aung Hlaing seperately at her similar request.
Min Aung Hlaing had pledged earlier that the armed forces will work with the new government of next term and for the stability, tranquility and development of the country.
The present term of the parliament is to expire on Jan 31, 2016 and to be taken over by the newly-elected parliament and a new government is expected to be formed in February with presidential run taking place in accordance with the constitution.
Election result showed that the NLD dominates the absolute majority of the parliamentary seats which is strong enough to form government independently under the constitution.
Suu Kyi herself also won as a representative re-elected to the House of Representatives (Lower House) of the next parliament.
Under the constitution, Suu Kyi is prevented from becoming president due to her family status which involves foreign citizenship.
Despite possessing the rights and decision to nominate a president for the new term of government, the NLD has not yet disclosed the person selected for the presidency.