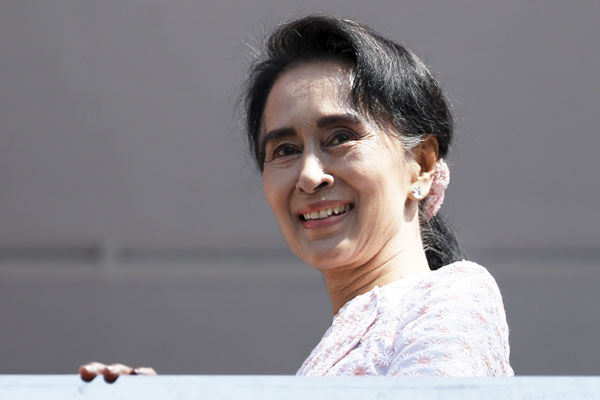 Myanmar's National League for Democracy party leader Aung San Suu Kyi addresses supporters after general elections in Yangon, Myanmar November 9, 2015. [Photo/Agencies]
YANGON -- Myanmar's opposition party led by Aung San Suu Kyi has won rights to form a new government independently as it has secured enough seats in the two-House Union Parliament, the election commission said on Friday.
Winning 348 seats in the two houses, the National League for Democracy (NLD) also swept most of the seats in the Region or State Parliament dominating not only major cities like Nay Pyi Taw, Yangon and Mandalay, but also areas inhabited by ethnic groups.
It signifies that NLD can not only lead the central Union Parliament and central Union Government but also lead in Region or State Parliament and the Region or State Government.
According to Myanmar's constitution, NLD Chairperson Aung San Suu Kyi is restricted to become president due to her family status which involves foreign citizenship.
However, the constitution does not have much strict restrictions over the qualification of the parliamentary speaker.
Despite possessing the rights to nominate a president of the next government, the NLD is yet to disclose the person selected for the presidency.
Meanwhile, leaders of the current government, military and the ruling party have all openly voiced acceptance of the decision of the voters, promising to transfer power within the set time frame and cooperate for a peaceful and stable transition.
Myanmar's historic general election was held peacefully and smoothly on Nov. 8, with 6,038 candidates competing more than 1,000 parliamentary seats.