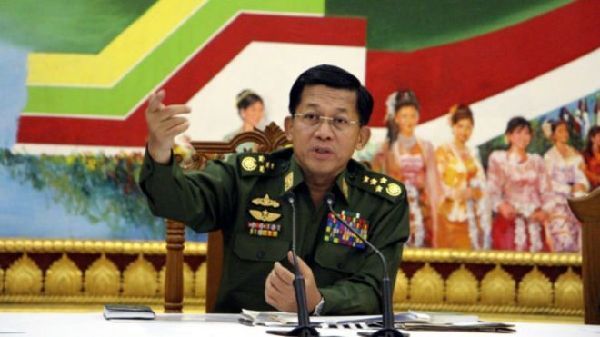 Commander-in-Chief of Myanmar's Defense Services Senior-General Min Aung Hlaing. [Photo/Xinhua]
YANGON - Commander-in-Chief of Myanmar's Defense Services Senior-General Min Aung Hlaing pledged on Wednesday that the armed forces will work hand-in-hand with the new government and work for the stability, tranquility and development of the country.
Min Aung Hlaing made the remarks three days after the general election in which Aung San Suu Kyi's National League for Democracy (NLD) is leading with the result of the poll.
The senior-general said no matter which government takes power, the armed forces will strive to become a standard army and back multi-party system, according to a news report of the state radio and television.
Meanwhile, the Information Team of the Office of the Commander-in-Chief of the Army issued a press statement in response to the request of Aung San Suu Kyi to hold dialogue with Senior-General Min Aung Hlaing, saying that the meeting will be coordinated after the work of the Union Election Commission (UEC) completes.
Honoring all voters of the country including the military personnel and families for orderly casting of votes, the statement praised and honored NLD for winning favorable result so far issued up to date.
Suu Kyi also sent letters separately to President U Thein Sein and Parliament Speaker U Shwe Mann, calling for holding similar dialogue next week on the basis of national reconciliation, saying the talks will be aimed at calmly and peacefully realizing the desire of the people expressed through Sunday's general election.
The president also replied the same as Min Aung Hlaing's and extended congratulation to Suu Kyi and her party on taking the lead with election results.
Myanmar's government pledged to work in cooperation with all stakeholders to enable stability and peace in the post-election period, according to an announcement of the President's Office Wednesday.
In response to Suu Kyi's call, U Shwe Mann has also voiced cooperation with Suu Kyi in building a politically stable, peaceful, prosperous and developed country.
The NLD has so far secured a total of 490 parliamentary seats at three levels in the next term of the parliament, according to the up-date election result released by the Union Election Commission Wednesday evening.
Suu Kyi herself also won as a representative re-elected to the House of Representatives (Lower House).