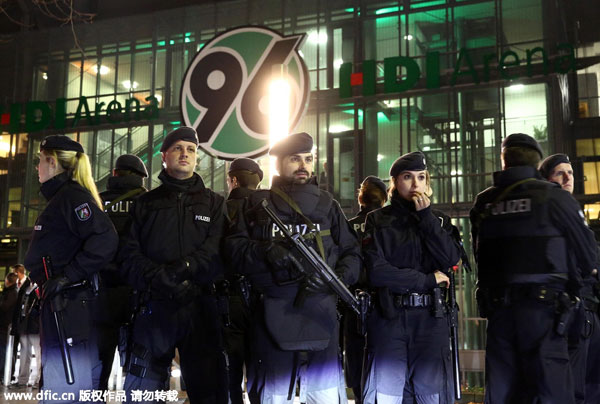 German Police stand outside the HDI-Arena in Hanover, Germany, on November 17, 2015. [Photo/IC]
HANOVER, Germany - A soccer game between Germany and Netherlands which German Chancellor Angel Merkel was due to attend in Hanover was called off two hours before its scheduled start on Tuesday over fears of a planned bombing.
The match was due to have been held four days after the deadly attacks in Paris on Friday, when suicide bombers targeted the soccer stadium where Germany were playing France.
"We had received specific indications that an attack with explosives was planned," Hanover Police President Volker Kluwe told NDR state broadcaster. "We took them seriously and that is why we took the measures."
"We do not know if these people, who had planned something for the stadium, had planned something else so we try to have a presence throughout the city," he said.
Police vans with loudspeakers ordered fans to leave the Hanover stadium and heavily armed officers positioned themselves outside the arena.
Police also evacuated Hanover's TUI multi-purpose arena where a concert was about to start while officers checked cars and pedestrians in the city centre and sniffer dogs were deployed.
A train on its way to southern Germany was also stopped at Hanover station with police removing a suspicious package before giving the all-clear for the train to continue its journey.
There were no arrests made and no explosives were found, Lower Saxony Interior Minister Boris Pistorius said.
Interior Minister Thomas de Maiziere said the threat was credible and cancelling the game was the right thing to do, but did not provide any details.
"I understand the question but I will not answer it," he told a hastily convened news conference when asked what had forced the decision. He said divulging details could undermine security at other events.