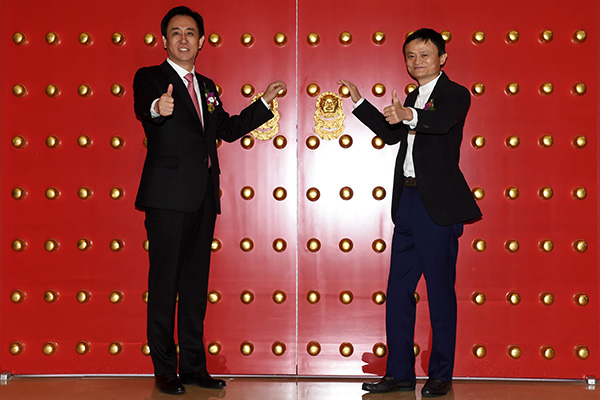 Xu Jiayin (left), president of Evergrande Real Estate Group, and Jack Ma, chairman of Alibaba Group Holding Ltd, were present at the listing ceremony of the soccer club in Beijing on Nov 6. The listing made the Guangzhou-based club the first both in China and Asia to go public on the stock market. [Photo/Xinhua]
Guangzhou Evergrande Taobao Football Club, a five-time Chinese Super League winner, took a significant step on Friday after listing its shares on the New Third Board.
The green light from the National Equities Exchange and Quotations for the listing is expected to prop up the fortunes of the ailing soccer club, which has Brazilian World Cup winning coach Luiz Felipe Scolari as its head coach, analysts said.
The Guangzhou-based club has become the first listed soccer club in China and Asia.
"The listing will help boost sales and lay a solid foundation for development of young Chinese players," said Ke Peng, chairman of Guangzhou Evergrande Taobao.
The club issued 375 million shares on the New Third Board, at 1 yuan (15.7 US cents) apiece, according to a statement from the company.
The New Third Board, which was launched in late 2012, has so far attracted about 2,500 firms, with 77 percent of them in technology and innovative businesses.
Despite the club's stellar record since it was promoted to the top tier of Chinese soccer in 2010, club sources said that it has been losing money for years due to hefty investments in international players and coaches.
"We have invested huge amounts to help build a professional club with international practices. We will continue to invest in the years ahead," said Ke.
The club registered losses of 576 million yuan in 2013, 483 million yuan in 2014 and 265 million yuan in the first five months of 2015, according to available data.
After the listing, the club plans to strengthen its cooperation with Spanish La Liga giant Real Madrid in brand building and commercial activities to boost sales, according to Ke.
"We will begin to make profits in 2016," said Ke, adding the club is making efforts to develop an all-Chinese-player squad within six years.
The club is jointly owned by Evergrande Real Estate Group, one of China's largest property developers, and e-commerce giant Alibaba Group Holding Ltd. Evergrande holds about 60 percent of the stake and Alibaba the balance.
Xu Jiayin, president of Evergrande, and Jack Ma, chairman of Alibaba, were both present at the listing ceremony in Beijing on Friday.
Xie Liang, a veteran soccer commentator with Radio Guangdong, said Evergrande's listing on the stock market would help bring more investments into China's soccer industry.
"More investments will help boost soccer in China, especially in the cultivation of young players," said Xie.