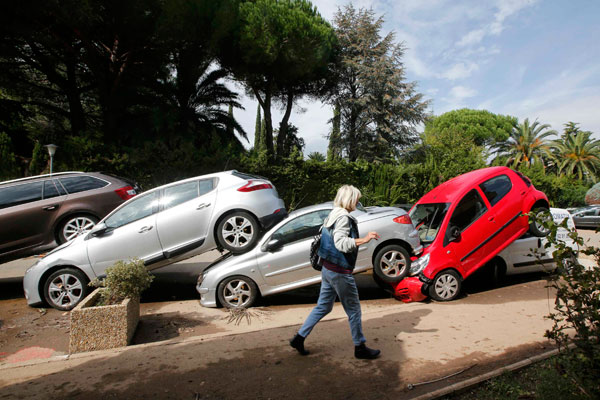 A woman walks past cars which are stacked one against another outside a residential apartment building the day after torrential rains caused flooding in Mandelieu-La Napoule, France, October 5, 2015.[Photo/Agencies]
NICE, France - Nineteen people died in flash floods on the French Riviera over the weekend, prompting the government to declare a natural disaster in the southeastern tourist region.
Some 4,400 homes were still without electricity on Monday afternoon after as many as 70,000 suffered blackouts the previous evening.
French Interior Minister Bernard Cazeneuve, who visited the affected zone on Sunday with President Francois Hollande, told Europe 1 radio on Monday there had been some looting and nine people had been arrested.
"Police intervened very quickly to stop these despicable acts," he said.
Some 300 police and 543 fire officers were continuing with search and rescue operations across areas affected by the floods, Cazeneuve said.
Torrential rain struck the Alpes-Maritimes county, bordering Italy, on Saturday evening, inundating local towns including Cannes and disrupting transport routes.
Victims included three people killed at a flooded retirement home in the village of Biot, and seven inhabitants of the town of Mandelieu-la-Napoule who had attempted to reach their cars in a garage, local government officials said.
Two people listed as missing earlier on Monday were found alive and in good health, officials said.
The more rugged and mountainous regions inland from the Mediterranean are not unaccustomed to episodes of flash-flooding but the latest one struck closer to the coastline itself and stood out by historic comparisons due to the hefty death toll.
Two more people were found dead by midday on Monday, raising the toll to 19, officials said, and the fate of another two people was unknown, the officials said.
Local rail services resumed on Sunday after being suspended overnight. Train services were expected to remain limited for the rest of Monday, while some roads remained blocked.
Hollande said on Sunday the French government would approve natural disaster status for the area at Wednesday's cabinet meeting and he pledged relief payments to help cover damage within three months.