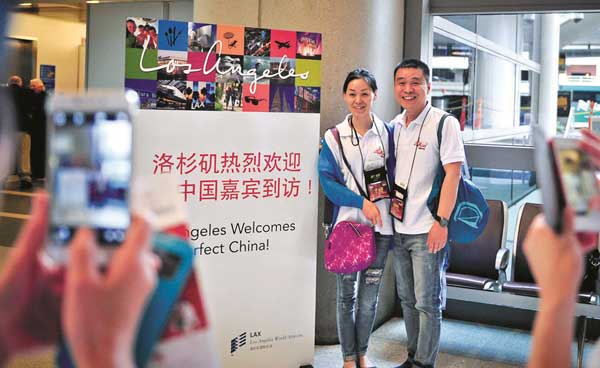 Chinese tourists are welcomed in Los Angeles, US.
When Chinese travelled abroad in the 1980s and 1990s, they were often asked by locals if they were Japanese or Korean or Singaporean. And for many, it was not a particularly pleasant feeling.
At that time, China's middle class was still small and very few Chinese could afford to travel abroad.
Today, the picture is completely different. Outbound Chinese tourists exceeded 100 million in 2014, compared with only 8.4 million in 1998, according to the United Nations World Tourism Organization. Six countries - South Korea, Thailand, Japan, the United States, Vietnam and Singapore - each welcomed more than 1 million Chinese travelers last year.
While neighboring countries such as South Korea and Japan continue to be hot destinations for outbound Chinese tourists (despite the row over historical issues between China and Japan), the US has become increasingly popular among Chinese travelers, thanks largely to the reciprocal visa extension program unveiled last November during President Barack Obama's visit to Beijing.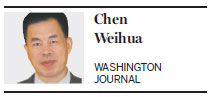 Applying for a US tourist visa used to be such a daunting task that many Chinese would opt for other destinations where visas were more readily available. That no longer seems to be the case.
China is an important contributor to revenues generated by international travel to the US, according to a report released Friday by the US Department of Commerce.
In 2014, China was the number two country for visitor spending to and within the US, with an estimated $23.8 billion spent on travel and tourism.
Chinese coming to the US 10 or 20 years ago found everything was so expensive. Today, the growing Chinese middle class sees the US as a shopping Mecca. Many outlet shopping malls and luxury brand stores now have Chinese-speaking staff to cater to this trend, something noticeable with the upcoming Chinese Oct 1 National Day weeklong holiday.