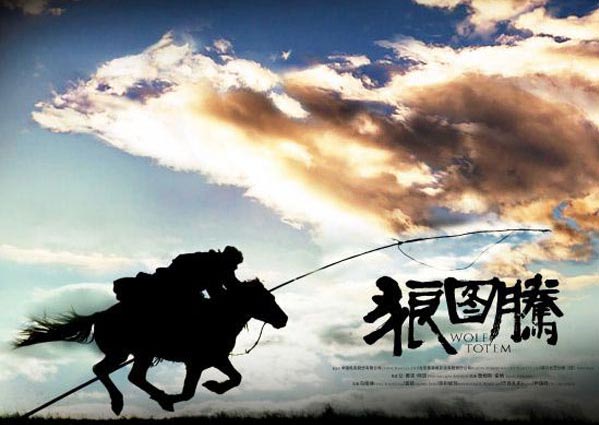 Poster of Wolf Totem. [Photo/Agencies]
China may submit Wolf Totem, a co-production between China and France, as its 2016 Academy Awards best foreign language film entry after it was announced that another contender lost the bid late Tuesday.
The producers of Mountains May Depart, directed by acclaimed filmmaker Jia Zhangke, conceded in a statement on Weibo that regulator confirmed their film's bid to represent China at the Oscars was unsuccessful.
The announcement ended a fierce competition between the producers of Wolf Totem and Mountains May Depart.
The film bureau of the State Administration of Press, Publication, Radio, Film and Television has yet to announce its final decision before the Oct. 1 deadline for the Oscars foreign language film category. If it is chosen, Wolf Totem will become the second China-France co-production to be submitted after last year's The Nightingale.
In a previous statement summarizing the development of China's movie industry, the administration said Wolf Totem was able to achieve box office success, at 698 million yuan ($109 million), because it "used an international way to tell a Chinese story."
Based on a popular Chinese novel, Wolf Totem tells of a young man's obsession with wolf packs in the Inner Mongolia grasslands. It was directed by Jean-Jacques Annaud.
The last Chinese submission to be named an official nominee by the Academy was Hero, directed by Zhang Yimou, in 2003.