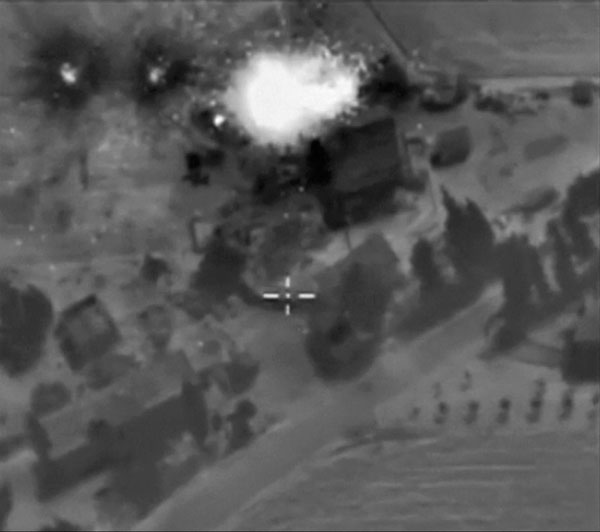 A frame grab taken from video released by the Russian Defence Ministry October 1, 2015, shows Russian jets hitting a target in Syria, which the Kremlin says includes a list of well-known militant organizations and not only Islamic State.[Photo/Agencies]
MOSCOW - Russia's air force hit 12 targets in Syria from Wednesday to Thursday, including command posts, local headquarters, ammunition depots and other facilities of the Islamic State (IS) terrorist group, the Defense Ministry said.
Over 50 Russian air force aircraft conducted altogether 20 sorties, 12 in the daytime and eight at night, destroying eight and four targets respectively, the ministry said.
"Deeply modernized Su-24M and Su-25 aircraft equipped with the most advanced targeting system took part in the mission," Igor Konashenkov, a spokesman for the ministry, told reporters.
All the strikes were coordinated with the Syrian army command, the ministry said.
"To avoid civilian casualties, the Russian aircraft is assigned to hit only targets located outside settlements and strictly on the basis of confirmed intelligence data from various sources," it added.
Reconnaissance satellites and drones were used to obtain reliable data about the locations of terrorists and to check the results of the strikes, the ministry said.
A group of Russian marines were guarding the Hmaimim Airbase in Syria where the Russian air force troops were deployed.
Russia started airstrikes in Syria on Wednesday after the Russian Federation Council, the upper house of parliament, granted President Vladimir Putin the right to send troops abroad.