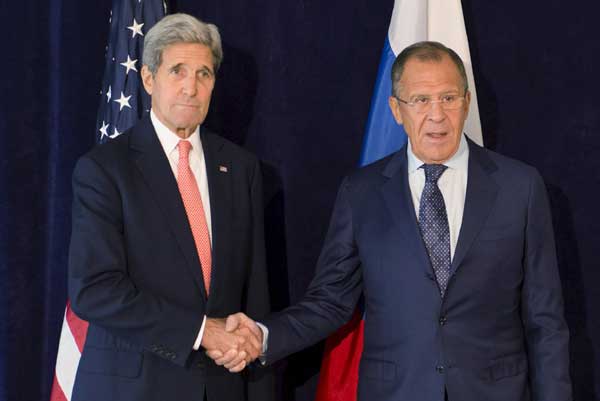 US Secretary of State John Kerry (L) poses with Russian Foreign Minister Sergei Lavrov during their meeting ahead of the United Nations General Assembly in New York September 27, 2015. [Photo/Agencies]
WASHINGTON -- The Pentagon announced on Tuesday the US military was to "open lines of communication with Russia" to de-conflict air operations in Syria.
"We expect the details of those conversations, including the exact timing of those conversations, will be worked out in the coming day," said Pentagon spokesman Peter Cook at a press briefing.
According to Cook, the purpose of the "de-confliction discussions" will be to ensure the ongoing US-led coalition air strikes against the Islamic State (IS) are not "interrupted" by any future Russian military activity and to avoid misjudgement and miscalculation.
After over a year of suspension of military contacts, defense secretaries of both countries held their first talk on Sept. 18 amid US rising concern about Russian military buildup in Syria.
The announcement also came one day after US President Barack Obama met with his Russian counterpart Vladimir Putin at the United Nations General Assembly.
"As the presidents discussed in New York, the United States and Russia have a common interest in fighting (IS) in Syria," said Cook.
However, as Russia continued to expand its political and military influence in Syria with latest announcement of reaching an intelligence-sharing accord with Syria, Iraq and Iran on Sunday, it became clear that Putin was moving ahead with a strategy different to Obama's in battling the IS.
Unlike the Russian strategy, which sought to put the Syrian government at a vital place, US strategy against the IS had long excluded the Syrian leadership from the coalition campaign.
Also, Russia's military buildup in Syria was raising serious questions for the Obama administration, which was still scrambling to decide to what extent should the US military get involved in the anti-IS campaign.