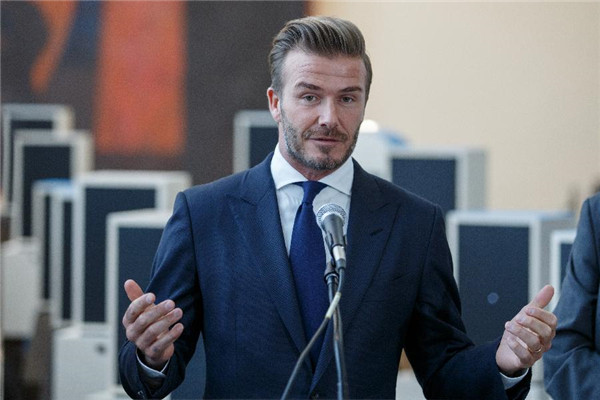 English soccer star and United Nations Children's Fund(UNICEF) goodwill ambassador David Beckham speaks during a press conference unveiling a digital installation created for UNICEF by Google, using mobile technology and social media to deliver messages of children from across the globe at the United Nations headquarters in New York, Sept 24, 2015. [Photo/Xinhua]
UNITED NATIONS - Goodwill Ambassador David Beckham of the UN Children's Fund (UNICEF), top UN officials and youth representatives on Thursday unveiled a unique installation that brings the voices of children and young people to the heart of the UN General Assembly.
As the UN prepares to adopt the Sustainable Development Goals (SDGs), the Assembly of Youth, a digital installation created for UNICEF by Google, harnesses mobile technology and social media to deliver personal messages from children and young people across the globe directly to world leaders.
The messages highlight the challenges they face in their homes and communities -- including extreme poverty, inequality, violence, deadly disease and conflict -- and express their hopes for the future.
At the unveiling ceremony, Beckham urged world leaders to listen to these messages and to take action to transform the lives of millions of children by putting the most disadvantaged children and young people at the centre of all decisions and investments in the new 15-year development agenda.
The new development agenda, also known as the post-2015 development agenda or the SDGs, is to be adopted at a summit which will be convened here Friday. It will replace the Millennium Development Goals, a set of eight anti-poverty targets, by the end of this year.
"It breaks my heart to see the struggles that children and young people across the world face every day," said the renowned soccer star. "I've met children and mothers in South Africa living with HIV, I've met children living in the aftermath of Typhoon Haiyan in the Philippines, and I've met children who have experienced violence in Cambodia."
"Whatever challenges they face, they all share the same hope for a better future and we have an opportunity this year -- with the world focused on the new global goals -- to make that hope real for millions of children," Beckham said.
"I want a world where children can grow up safe from war, violence, poverty and preventable disease -- a world where every child has a fair chance," he said. "I hope everyone will join me in asking world leaders to put children, especially the most disadvantaged, at the heart of the new global goals."