In the last 20 years, Chinese women have made "remarkable progress" in economic, political and social participation, but "are basically flat" when it comes to making progress with men in education, health and social security, an official with China's largest women's public welfare organization told a summit meeting on women at the United Nations on Tuesday.
Qin Guoying, secretary-general of China Women's Development Foundation(CWDF), made her remarks before hundreds of women from around the world who attended the 2015 Empowering Women and Sustainable Development Summit at UN headquarters in New York.
"The Chinese government has improved more than 20 relevant laws and regulations to promote the development of the cause of women," Qin said, noting that non-government organizations (NGOs) for women are exerting a growing importance.
Oh John, ambassador and permanent representative of Republic of Korea, told the conference that 15 years ago the UN adopted the "Millennium Development Goals" , which stress the elimination of discrimination against women and girls, but he said they face difficulties in implementation.
Oh said that this month 193 UN member countries approved the agenda titled "Transforming Our World: The 2030 Agenda for Sustainable Development", which includes achieving gender equality, empowering all women and girls and 16 other development goals.
"To achieve the goals, it requires coordinated efforts from all parties," said Oh, who also serves as president of the Economic and Social Council.
This year marks the 20th anniversary of the fourth World Conference on Women, which was held in Beijing in September1995. At the conference the Beijing Declaration and Platform for Action were passed, which clarified strategic objectives and action steps for the global progress of women.
"Empowering women not only means eliminating poverty, but achieving sustainable development," said Xu Haoliang, assistant administrator and director of the Regional Bureau for Asia and the Pacific at the UN. "NGOs, especially women non-government organizations, have become one of the propellers of social transformation," he said. "An important way for women's development in the future will be state, enterprise and society's co-operation."
The summit was jointly hosted by the UN's Sustainable Development Goals Fund, CWDF and the Sino-American Friendship Association(SAFA).
The conference was divided into international forums and symposiums.
The UN's first environmental artist, Yuan Xikun, donated his work the Goddess Nvwa Repairs the Sky sculpture to the summit.
During the summit, nearly 250 innovative cultural handicrafts made by Chinese women, most of whom were impoverished and got out of poverty though public welfare projects.
Hong Xiao in New York contributed to this story.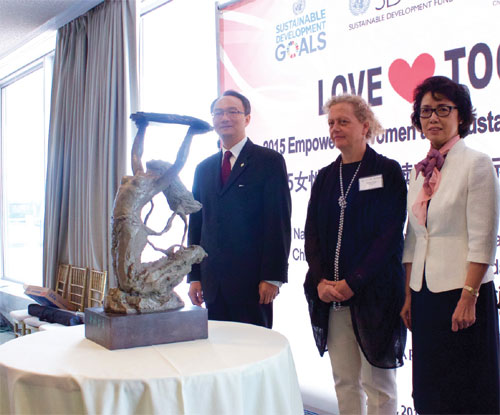 From left: Zhang Jinping, president of the Sino-American Friendship Association; Paloma Duran, director of the Sustainable Development Goals Fund; and Qin Guoying, secretary-general of China Women"s Development Foundation, accept a sculpture titled "Goddess Nvwa Mends the Sky" created by the UN's first environmental artist Yuan Xikun. Hong Xiao / for China Daily
(China Daily USA 09/23/2015 page4)