A careful reading of the joint statement of Premier Li Keqiang and European Union leaders during their June summit will give an idea of the great mission European Commission Vice-President Jyrki Katainen will carry when he flies to Beijing to chair the EU-China High Level Economic and Trade Dialogue.
Perhaps the most important job Katainen's colleagues and Chinese Vice-Premier Ma Kai, who will attend the dialogue in Beijing on Sept 28, are supposed to complete is the synergizing Brussels' 315-billion investment plan for Europe and China's Belt and Road Initiative. This means that two years after President Xi Jinping proposed the Belt and Road Initiative, the world's largest union of advanced economies has accepted the principle of shared prosperity and development.
Of course, most of the 28 EU members have already endorsed China's proposal, and countries like Russia, Pakistan, Indonesia and some other Asian states have implemented measures to boost infrastructure development and people-to-people exchanges.
It is highly likely that China and the EU will reach some concrete agreements in Beijing because the EU knows how important it is to speak for all its members in one voice on important issues.
As European Commission President Jean-Claude Juncker complained in his first "state of the union" address earlier this month, the EU has not been appropriately represented in international institutions. He said: "How can it be that we - Europeans - are jointly major shareholders of global institutions such as the International Monetary Fund and the World Bank and still end up acting as a minority?" Washington, on the other hand, exercises veto power and the right to appoint US nationals as the heads of the World Bank and some other international financial institutions.
Given Juncker's dissatisfaction, Katainen may touch upon issues such as the China-proposed Asian Infrastructure Investment Bank and a road map on shared responsibilities in new international institutions that are different from the IMF and the World Bank, as China is committed to making the AIIB a fair and transparent global institution.
And since Chinese and EU leaders are exploring ways to develop practical avenues for mutually beneficial cooperation, including a China-EU co-investment vehicle, Katainen needs to concretize this idea.
Beijing has long hoped such initiatives would facilitate Chinese investment in Europe. It has even established funds for the purpose with Central and Eastern European countries, though Brussels is not happy about it. And last week, China and France announced the establishment of a similar fund by November to facilitate two-way investment and trade.
Chinese banks operating in France have already set aside specific funds for wine makers on both sides to develop their businesses. Also, three Sino-Belgian industrial funds have been in operation for years.
Brussels does need to coordinate with all EU members, but what it needs to do urgently is to reflect the views of EU entrepreneurs to help build more bridges with China. If the two sides cannot find an easy solution to the problems they are facing, they should encourage EU member states and relevant industries to establish common investment funds.
It would be good to see the two sides pushing the "Sino-European Investment Bank" proposal forward and seeking to strike an ambitious investment deal.
We should not forget that years ago China allowed the EU to set up a business school in Shanghai to expand its activities in China. Now, Brussels needs to show the same tolerance and vision to let China consolidate its presence in the EU in a constructive way. To achieve this, Beijing and Brussels also need to listen to the calls of the business sector, think tanks and ordinary people.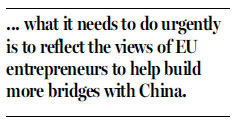 (China Daily USA 09/23/2015 page13)