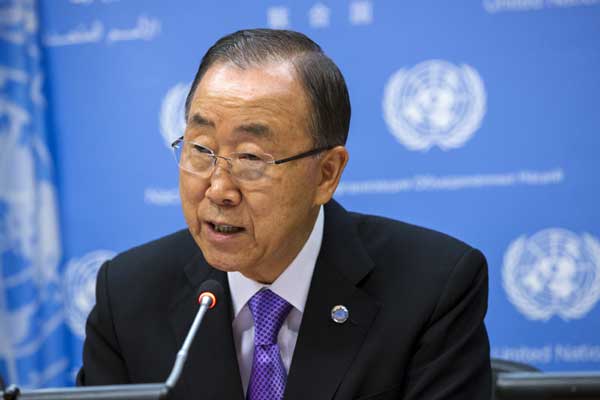 United Nations Secretary General Ban Ki-moon addresses the media ahead of the U.N. General Debate at U.N. headquarters in New York September 16, 2015. [Photo/Agencies]
UNITED NATIONS-- UN Secretary-General Ban Ki-moon on Wednesday commended nations aiding migrants and refugees and asked people in countries blocking the way of the unfortunate to "stand in their shoes."
At his annual meeting with reporters at UN Headquarters before the 70th General Debate beginning next week in the UN General Assembly where world leaders gather, Ban addressed the plight of 100 million people or about "one in every 70 people on earth."
They need "life support," Ban said, and yet humanitarian appeals are "chronically underfunded."
"Brutal conflicts, breakdowns in basic governance, economic despair and other factors have generated displacements of people not seen since the Second World War," he said. "Sixty million people have fled their homes."
"Men, women and children fleeing war and persecution deserve real support, including asylum," said the UN chief. "I ask those standing in the way of the rights of refugees to stand in their shoes."
Ban saluted leaders and citizens in many other countries, including Germany, Sweden and Austria, for opening doors and showing solidarity. "I am also grateful for the financial generosity of many countries in addressing the humanitarian consequences, in particular the United Kingdom and Kuwait."