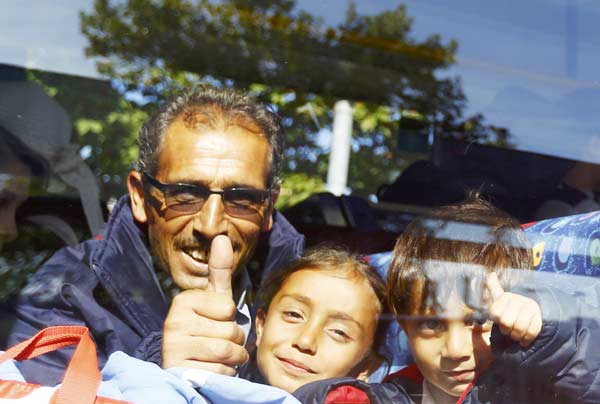 A family of migrants gives thumbs up as they sit in a bus near the border with Austria in Freilassing, Germany September 15, 2015. [Photo/Agencies]
SALZBURG, Austria - Austria said on Tuesday it would impose new restrictions at its borders from midnight, as the country on the main route for migrants crossing the European Union by land struggled to cope with a backlog of thousands trying to reach Germany.
Thousands of migrants have poured into Austria in recent days, rushing through Hungary ahead of a deadline that saw that country close its border with Serbia.
The route is the main one used by tens of thousands of migrants heading over land across the Balkan peninsula for the EU in the biggest influx to Western Europe since World War Two.
More than 15,000 migrants walked across Austria's border from Hungary on Monday, a record since the start of the crisis.
Most are bound for Germany, which announced last month it would accept Syrian refugees regardless of where they enter the EU and is preparing to accept 800,000 asylum seekers this year.
Overwhelmed by the sudden arrival of thousands into Munich, Germany imposed new checks at its border on Sunday. That has created a backlog in Austria, which has had to cancel most westbound trains because of the strain.
"Very many travellers are already waiting at Salzburg's main station for their onward journey," the national rail company OeBB said in a statement. Salzburg is the last city on most migrants' route out of Austria. About 500 migrants were among those waiting, officials said, and hundreds more were expected.
"Because of the border controls, there can be backlogs and train cancellations," OeBB said. "OeBB advises travellers against journeys to Germany."
Germany's decision to suspend control-free travel from other EU countries has prompted neighbours to consider measures of their own, threatening to unravel the continent's Schengen border-free travel zone.
Austria would introduce similar controls to Germany's as of midnight (2200 GMT), an Interior Ministry spokesman said.