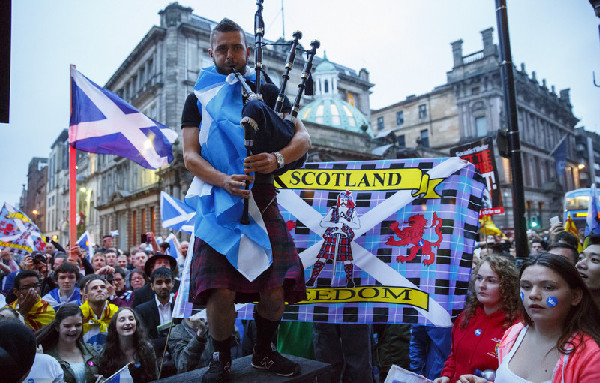 Scottish independence campaigners pose against a Unionist group after debating at George Square in Glasgow whilst people of Scotland going to polling stations to vote on the Scottish independence referendum on Sept 18, 2014. [Photo/IC]
LONDON - Scottish nationalist leader Nicola Sturgeon will include triggers for a second independence referendum in the party's manifesto for the 2016 Scottish election, she said in an interview with the Sunday Herald newspaper.
British Prime Minister David Cameron in May ruled out another independence referendum despite spectacular gains by the Scottish National Party (SNP) in that month's election, saying Scots had "emphatically" rejected a breakaway last year.
Scots voted 55-45 percent against independence in a September 2014 referendum but the May 7 general election saw the SNP take 56 of Scotland's 59 seats in the Westminster parliament.
"Our manifesto will set out what we think around the circumstances in which, and the possible timescales in which, a second referendum might be appropriate," Sturgeon told the paper in an interview. "It will then be down to people to accept whether they vote for that manifesto."
Citing sources close to Sturgeon, the newspaper reported the trigger list would be limited but could include a general option allowing for a referendum in the event of a dramatic, unforeseeable event such as Cameron embarking on what they termed an illegal war.
A vote to divide England and Scotland would amount to the break-up of the United Kingdom, the world's fifth largest economy.
When asked for comment on the Sunday Herald report, a spokesman for Cameron said: "The people of Scotland voted to remain part of the United Kingdom last year and we will see through our commitments to give them the extra powers."