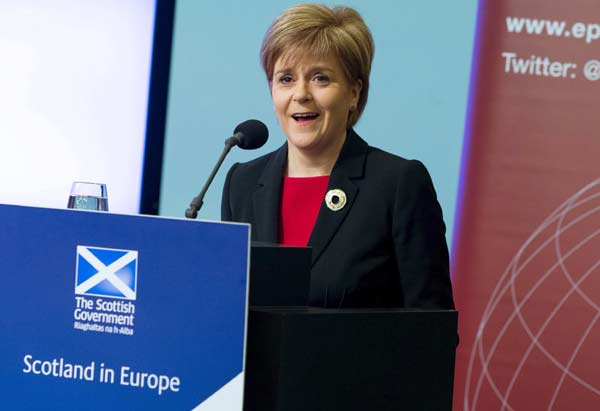 Scotland First Minister Nicola Sturgeon gives an address at the European Policy Center in Brussels, Belgium June 2, 2015. [Photo/Agencies]
BRUSSELS -- Visiting Scottish First Minister Nicola Sturgeon said Tuesday in Brussels that she believed unequivocally that membership of the European Union (EU) is in Scotland's best interests.
She made the remarks at European Policy Center, saying that the "in or out" referendum pledged by British Prime Minister David Cameron on whether Britain should withdraw from the EU by 2017 is "undesirable".
She said Scotland's commitment to the EU was founded on its awareness of the practical benefits it would bring.
Sturgeon said there are many areas - whether it is climate change or energy security or international trade - where decisions taken by the EU will be more effective than ones made by 28 individual nations.
She said the EU had provided important social protections for workers in Scotland and across the continent. And the common market is vital for jobs and businesses across Scotland, as the EU provides the market for almost half of Scotland's international exports, and it has been estimated that those exports support more than 300,000 jobs.
Sturgeon added that the freedom to travel, study and work across Europe has brought major benefits to Scotland, noting that at present there are 170,000 people from the EU who live and work in Scotland.
Noting that the referendum is now inevitable, Sturgeon said that the Scottish government intended to approach the referendum in a positive and constructive manner.
She said Scotland seeks to make the referendum a difference from such aspects as the content of the referendum bill and Scotland's proposals for EU reform.
Sturgeon also said Scotland were arguing for a "double majority" provision, which would mean that Britain would only leave the EU, if England, Northern Ireland, Scotland and Wales vote in favor.
Later Tuesday, Sturgeon also met with European Commission President Jean-Claude Juncker.