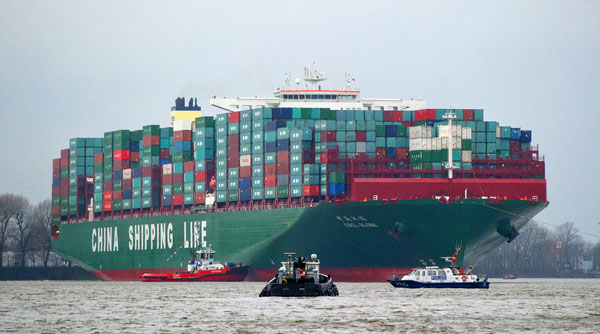 A giant cargo ship operated by the China Shipping Group arrives at the Port of Hamburg, Germany, during its maiden voyage on Jan 13. The vessel, launched in November 2014, can carry more than 19,000 containers and is the largest container ship in the world. [Photo/AFP]
Investment flows from China to the European Union surged 487 percent in the first four months of this year, with the 28-member market keen to offer reciprocal access to Chinese investors, the Ministry of Commerce said on Friday.
The ministry only provided a growth figure for the EU but did not give any specific figures.
Total global outbound direct investment by Chinese enterprises reached $34.97 billion between January and April, up 36.1 percent on a year-on-year basis, data released by the ministry showed.
Chinese ODI to seven top destinations, including the EU, the Association of Southeast Asian Nations, Australia, the United States and Russia, amounted to $27.29 billion, accounting for 78 percent of the nation's total investment around the world during this period.
Investment from the Chinese mainland into ASEAN and the Hong Kong Special Administrative Region rose 62 percent and 52 percent year-on-year, respectively.
Shen Danyang, spokesman for the ministry, said even though the global demand for investment is huge, Chinese investors are more inclined to choose the EU or US as these mature markets have well-developed industrial and infrastructure foundations, as well as mature consumer populations and legal environments.
"The depreciation of the euro has lowered Chinese companies' costs as they acquire European companies or set up branches there to further expand their international presence and market share," said Shen.
Chinese companies made 23 merger and acquisition deals worth $12.3 billion in Europe in the first quarter, rising 59.7 percent from the same period a year earlier, according to a report by ING Group, a Dutch multinational banking and financial services corporation.
China National Chemical Corp's $8.1 billion acquisition of Italian tiremaker Pirelli SpA was the largest deal by a Chinese company in Europe in the first quarter.
In terms of deal volume, the top three destination countries in Europe for Chinese investors were the United Kingdom, Switzerland and Germany.
Sang Baichuan, director of the institute of international business at the University of International Business and Economics in Beijing, said besides an interest in high-end technology, component supply and energy efficiency in Europe, investment is likely to be increasingly driven by demand for quality products, as Chinese companies seek to develop global brands and gain new technical edges.
"China's interest in the natural resources sector will likely decline while activities in new areas such as entertainment, environmental protection and retail will increase," said Sang.
The country's investment has already entered such sectors as information technology, machinery, food, biotechnology and vehicles in the European markets.
Sang said private companies and private equity investment funds are set to become active players in outbound deals, which have previously been dominated by State-owned enterprises.