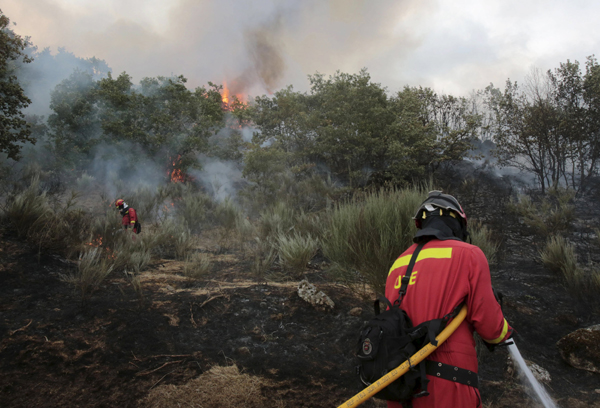 Spanish soldiers work to extinguish a forest fire in Seoane in the northwest Spanish region of Galicia August 31, 2015. [Photo/Agencies]
MADRID - A wildfire which began at around mid-day on Sunday has destroyed around 2,000 hectares of woodland in the Community of Galicia in the northwest of Spain.
The Galician Department of Rural affairs confirmed that the fire, which is in the province of Orense in the interior of the region, is being fought by forestry agents, firemen and the Spanish military with the aid of seven helicopters and nine aircraft, has already destroyed one home, which was unoccupied at the time, and led to several others being evacuated.
The fire close to Orense was one of three fires which were burning in Galicia in the early hours of Monday morning, with a further fire in Cantabria, one in the central region of Castilla-Leon, one in the Catalan region and one in Extremadura.
The exceptionally hot summer is a key factor why Spain has seen a high-number of wildfires in 2015. The month of July was on average 2.5 degrees centigrade hotter than average and at the start of August the Spanish Ministry of Agriculture confirmed that the first seven months of the year had seen 52,227 hectares of land burned.
That is over twice the 20,947 hectares burned in 2013 and well above the 37,584 hectares affected in 2014.
The most destructive fire of 2015 was in the Sierra de Gata in the southwest of Spain, which destroyed almost 7,000 hectares of woodland over several days in early August before finally being extinguished.