Rocky Fire has scorched 62,000 acres, forced the evacuation of more than 13,000 people
A wildfire that has devoured drought-parched terrain in northern California with remarkable speed raged on for a sixth day on Monday as evacuations expanded and firefighters began to gain some ground against the flames.
The blaze, dubbed the Rocky Fire, has scorched some 62,000 acres and destroyed more than 50 structures since erupting last week in the canyons and foothills along the inland flanks of California's North Coast Ranges, quadrupling in size over the weekend.
Evacuation orders, both mandatory and suggested, were in place for more than 13,000 people living in more than 5,530 residences, according to the California Department of Forestry and Fire Prevention, known as Cal Fire.
The blaze raced through 20,000 acres in one five-hour stretch on Saturday night, a rate that Cal Fire officials described as "unprecedented". The flames, stoked by winds, jumped a state highway on Monday that fire crews had hoped would serve as a containment line, they said.
The blaze was 12 percent contained on Monday night, officials said.
The cause of the Rocky Fire remains under investigation, but the blaze was one of more than 20 conflagrations across the state following thousands of lightning strikes in recent days, according to Cal Fire Captain Kendal Bortisser in an evening update.
More than 9,000 firefighters, many of them reinforcements from out of state, were dispatched statewide. One-third of that force was assigned to the Rocky Fire alone, along with 19 water-dropping helicopters and four airplane tankers, Cal Fire said.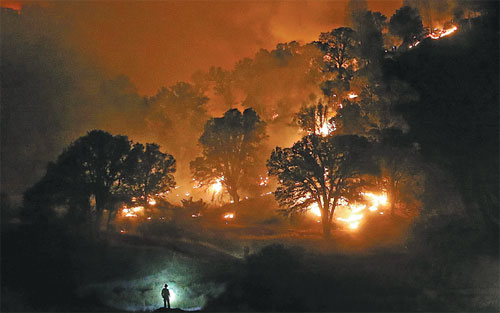 A firefighter is silhouetted by his headlamp as he monitors a backfire while battling the Rocky Fire on Monday near Clearlake, California. Justin Sullivan / Getty Images Via AFP