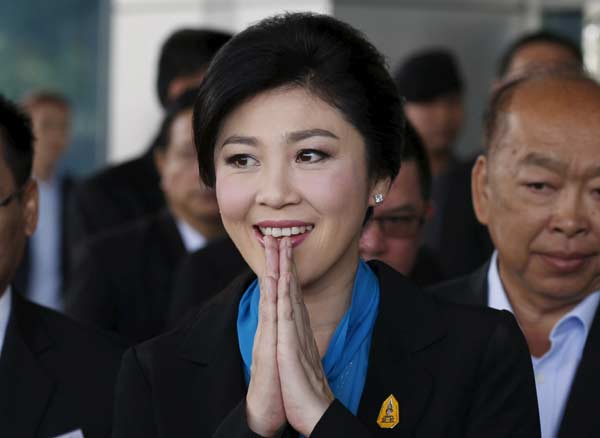 Ousted former Thai Prime Minister Yingluck Shinawatra gestures as she arrives at the Supreme Court in Bangkok, Thailand, August 31, 2015. [Photo/Agencies]
BANGKOK - Former Thai Prime Minister Yingluck Shinawatra appeared before the Supreme Court on Monday to review evidence in a case involving rice subsidies that haemorrhaged billions of dollars and could see her jailed for up to 10 years for negligence.
Yingluck's flagship election policy helped sweep her to office in a landslide in 2011, but its failure saw her banned from politics for five years in January by a legislature appointed by the generals who toppled her government.
The grain policy, which has since been discontinued, aimed to boost farmers' incomes by buying their rice at above market prices. Yingluck's government was attacked for refusing to abandon the scheme when the rice and debt piled up.
It caused an estimated $16 billion in losses and left Thailand with a rice mountain it is still struggling to shift. The current stockpile is 13.9 million tons.
Prosecutors on Monday provided an evidence dossier of 60,000 pages and 23 additional witnesses in the case.
"These were not seen or reviewed (by all parties)," Yingluck told reporters. "Today we're going to hear about this and hope that we will get justice."