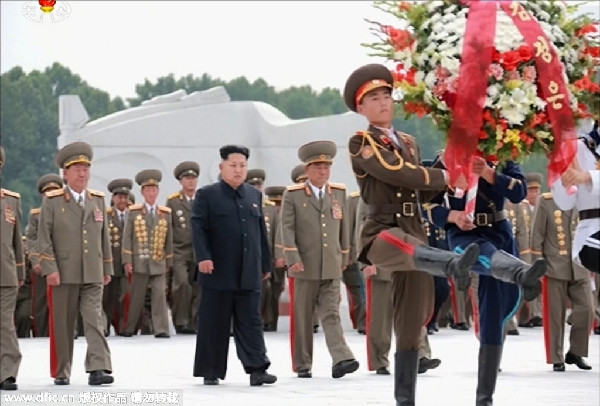 Top leader of the Democratic People's Republic of Korea (DPRK) Kim Jong-un (C) visits Martyrs' Park on July 27. [Photo/IC] 
At a veterans conference on Saturday, Kim Jong-un lauded July 27 as a day of liberation "when our people defended with honour their country's dignity and sovereignty from the brigandish aggression by the US imperialists."
He said that his country "has been the front line of the anti-US struggle, with the dark clouds of aggression and war constantly hovering over this land," and that the United States and its allies "are making a last-ditch attempt to stifle" the DPRK.
"If the enemy, forgetful of the tradition governed by the law of history, commit another reckless act of provocation against our Republic, our revolutionary armed forces will bury them in the grave of final ruin," he said.
"Our force at present is not what it was in the 1950s," he added, saying that the DPRK "now possess such a force as to fight any form of warfare of the choice of the United States" and "have a might powerful enough to deter the United States from unleashing a nuclear war."
Across the 38th parallel north border, South Korean and US forces held a ceremony on Monday in the truce village of Panmunjom, according to South Korean news agency Yonhap.
Lt. Gen. Terrence O'Shaughnessy, deputy commander of the United States Forces Korea (USFK), was quoted as saying that the USFK will "do everything" to keep stability on the Korean Peninsula against what he called the DPRK's "continuing provocations."
Also speaking at the ceremony, South Korean Army Maj. Gen. Chang Kwang-hyun said the only sure way to sustain the peace in South Korea amid national confrontation "is by obtaining a firm war-readiness position and capacity."
The Korean Armistice Agreement, signed on July 27, 1953, marked the end of the three-year Korean War, yet the absence of a peace deal means that the two neighbors sharing the Korean Peninsula are still technically at war.