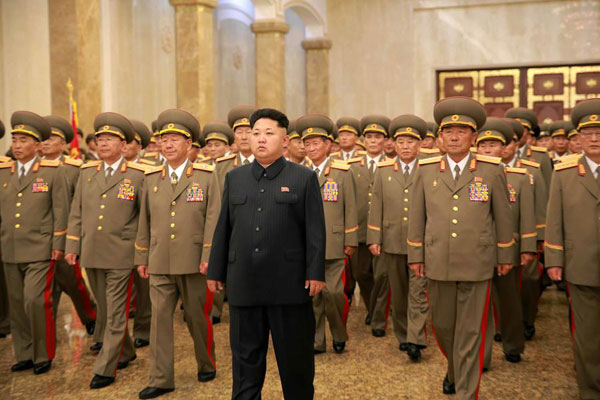 Top leader of the Democratic People's Republic of Korea (DPRK) Kim Jong-un (C) visits the Kumsusan Palace of Sun on July 27, 2015. [Photo/KCNA]
PYONGYANG -- The Democratic People's Republic of Korea (DPRK) on Monday issued a dire warning against "US imperialism" as it commemorated the 62nd anniversary of the Korean Armistice Agreement.
In the wee hours of the day, which DPRK top leader Kim Jong-un called "the eternal v-day" for his country, Kim paid tribute to late leaders Kim Il Sung and Kim Jong Il at Kumsusan Palace of Sun, according to state-run news agency KCNA.
Rodong Sinmun, Pyongyang's leading official newspaper, dedicated an editorial to the occasion, recalling that DPRK forces defeated "the US imperialist aggressors who boasted of being the 'strongest' in the world" and urging the whole nation "to make dynamic advance along the road of final victory."
On Sunday, the DPRK held a nation meeting "to celebrate the 62nd anniversary of the Korean people's victory in the great Fatherland Liberation War," according to the KCNA.
"It is more than 60 years since the ceasefire on the land but peace has not yet settled on it," General Pak Yong Sik, minister of the Korean People's Armed Forces, was quoted as saying at the conference.
"If the US imperialists provoke a new war, oblivious of the lessons they drew from the documents of surrender signed by them in the past, the revolutionary armed forces of the DPRK will wipe out the aggressors to the last one so that there would be no one left to sign a surrender document," he warned.