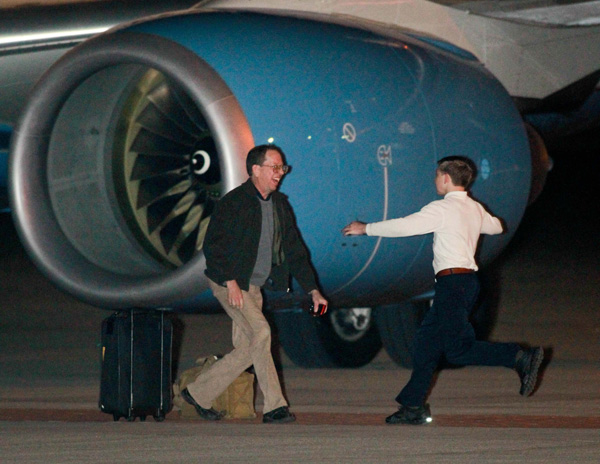 Jeffrey Fowle greets his son after arriving at Wright Patterson Air Force Base in Fairborn, Ohio October 22, 2014. [Photo/Agencies]
WASHINGTON - The release of an American citizen by the Democratic People's Republic of Korea (DPRK) does not represent an opportunity for Washington to renew relations with Pyongyang, US State Department said Wednesday.
"What I think this is a positive development on one case," State Department spokeswoman Marie Harf said of the release of Jeffrey Fowle. "But we need to see positive developments on the other cases."
"We need to see any steps toward denuclearization, which we haven't seen," she said, adding that the US is working with its partners of six party talks to see if the DPRK takes a different path.
The DPRK is in violation of numerous international obligations and UN Security Council resolutions, Harf added.
The United States said Tuesday that 56-year-old Fowle, one of three Americans held by the DPRK, has been released and was heading home. He entered the DPRK on April 29 and was arrested for acts against his tourism goal and in violation of the DPRK law.
The DPRK is holding two other Americans, 24-year-old Matthew Miller and 42-year-old Kenneth Bae, who were sentenced to hard labor of six years and 15 years respectively.