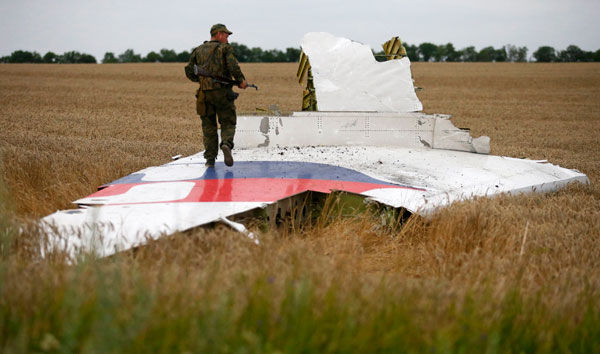 An armed pro-Russian separatist stands on part of the wreckage of the Malaysia Airlines Boeing 777 plane after it crashed near the settlement of Grabovo in the Donetsk region, in this July 17, 2014 file picture.[Photo/Agencies]
THE HAGUE -- The final report of the investigation into the crash of flight MH17 which was shot down while en route from Amsterdam to Kuala Lumpur on July 17, 2014 is expected to be published in the first half of October, the Dutch Safety Board told Xinhua on Thursday.
The board refused to comment on CNN reports saying that the investigation pinned the downing of MH17 on "pro-Russian rebels".
"We follow the rules from the International Civil Aviation Organization (ICAO) when it comes to the investigation," said a spokeswoman of the Dutch Safety Board (Onderzoeksraad voor Veiligheid, or OVV, in Dutch) in a telephone interview with Xinhua.
The Netherlands is leading the international investigation into the crash with accredited representatives from Australia, Malaysia, the Russian Federation, Ukraine, the United Kingdom and the United States.
As the draft final report is confidential, the OVV would not respond to questions regarding it's contents.
However, on Wednesday, CNN cited sources who had seen the draft report that "evidence points to pro-Russian rebels as being responsible for shooting down MH17."
According to the sources cited by CNN, the report states a Buk missile (a Russian surface-to-air missile) was launched from a village in rebel-controlled territory.
The report is also said to pin some blame on Malaysia Airlines because it did not review other countries' warnings and was unaware of conflict zones that other airlines were avoiding.
A total of 298 people, 196 of them Dutch, were killed after the commercial passenger plane crashed in the Donetsk area of east Ukraine.
A preliminary report published last September said the plane "broke up in the air probably as the result of structural damage caused by a large number of high-energy objects that penetrated the aircraft from outside".
In addition to the international investigation into the cause of the crash, the OVV is also investigating the decision-making process pertaining to safety when determining flight routes, as well as the availability of passenger information.