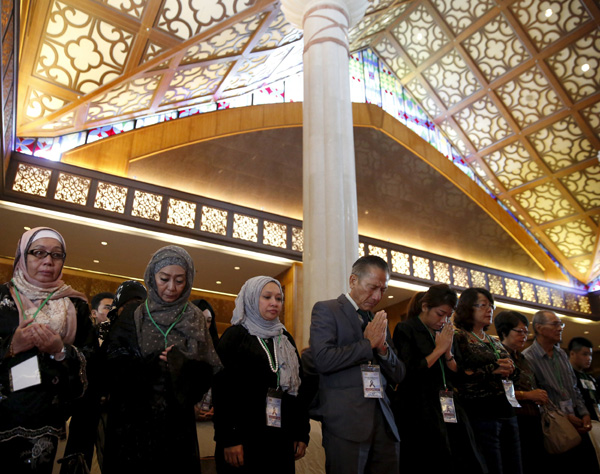 Relatives of passengers killed onboard Malaysia Airlines flight MH17, pray during a memorial service to mark the first anniversary of the tragedy, in Sepang, Malaysia, July 11, 2015.  [Photo/Agencies]
SEPANG, Malaysia - Malaysian Prime Minister Najib Razak said Saturday that the criminal investigation team now has a clearer picture on the possible cause of the crash of Malaysia Airlines (MAS) flight MH17, and is carefully looking into and investigating all scenarios.
At a memorial to mark the first anniversary of the tragedy, Najib said in his speech that the investigation of the MH17 incident has been divided into two parts, i.e. the criminal investigation and the technical investigation.
At this moment, the criminal investigation is still ongoing and carried out by joint investigation team (JIT) comprising of Australia, Belgium, Malaysia, the Netherlands and Ukraine, he said, adding that detailed investigation work is still being carried out by JIT, taken by police and prosecutors to collect evidence to find out the cause of the incident and who is responsible for the crash of MH17, and the investigation of JIT is expected to continue till around the end of 2015.
"It should be understood that the purpose of the ongoing criminal investigation is to bring those responsible for the incident to face justice, and all prosecution mechanism is being considered," Najib said, adding that they are not pointing fingers at any party until the authentic evidence is justified.
The prime minister said Malaysia has tabled a draft resolution to the United Nations Security Council (UNSC), urging the international court to bring those responsible for shooting down the MH17 to face justice.
He said the proposal of the resolution and the related criminal court, which involved cooperation between government of Malaysia, Australia, the Netherlands, Belgium, and Ukraine, has been distributed to the 15 members of the UNSC for voting process.