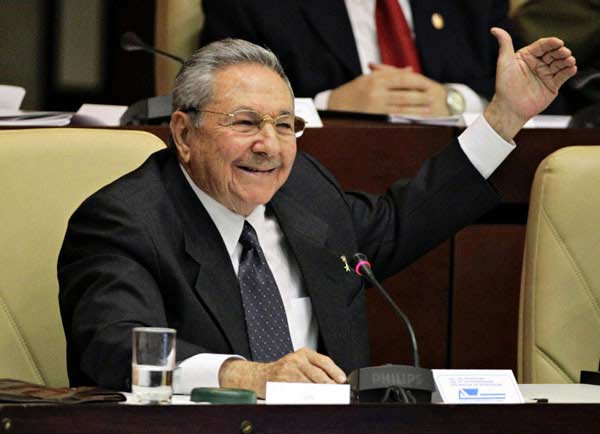 File photo of Cuban leader Raul Castro. [Photo/Agencies]
HAVANA - Raul Castro said Wednesday that Cuba and the United States are entering a new era as the countries prepare to restart diplomatic relations next week, though he insisted more changes in US policy toward the island are necessary.
In his first public comments since the two governments announced that their diplomatic missions currently known as "interests sections" will enjoy full embassy status beginning July 20, Castro's remarks to Cuba's parliament sounded both a welcoming and cautious tone.
"A new stage will begin, long and complex, on the road toward normalization, which will require the will to find solutions to the problems that have accumulated over more than five decades and hurt ties between our nations and peoples," Castro said in a speech that was broadcast later by state TV in the evening.
"As we have said, it is about founding a new kind of tie between both states, that is different from all our shared history," he added.
Castro acknowledged President Barack Obama's call for a debate on lifting the more than 50-year-old US trade embargo, something that would require an act of Congress.
But Cuba hopes he continues to use his executive powers "to dismantle aspects of this policy, which causes damage and hardship among our people," Castro said.
He said as far as Cuba is concerned, relations cannot be normalized as long as the embargo is in place. He also demanded the return of the US military base at Guantanamo, compensation for economic damage from the embargo, an end to US broadcasts beamed at the island and a halt to "programs that aim to promote subversion and destabilization."
His comments came during one of the National Assembly's twice-annual regular sessions in a Havana convention center.
Cuba and the United States broke off diplomatic relations in 1961 during tense Cold War times.
The near-neighbors have danced a mutually hostile lockstep ever since, until Castro and Obama's simultaneous statements Dec. 17 that they would negotiate restoration of ties. Earlier this month those talks culminated with the embassy announcement.
On Wednesday, Cubadebate posted a photo of workers at the Cuban Interests Section in Washington removing a plaque identifying it as such, ahead of its ceremonial inauguration as an embassy on Monday.
Also at parliament, officials reported that Cuba recorded an annualized economic growth of 4.7 percent in the first half of the year. That was up from a forecast of 4 percent offered last month; annual growth is expected to come in around 4 percent.
"This is very good, taking into account that last year we only grew 1 percent," Castro said.