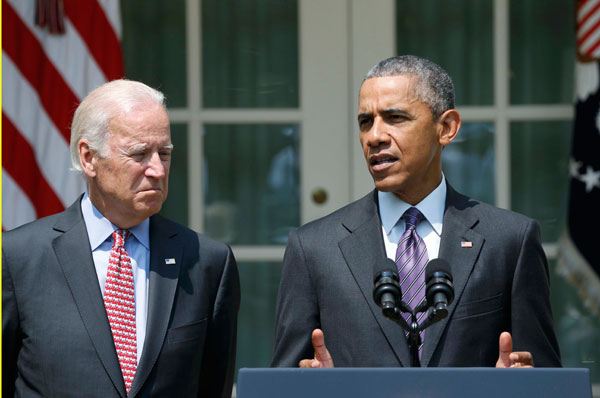 US President Barack Obama delivers a statement on Cuba from the Rose Garden at the White House in Washington, July 1, 2015. Vice President Joe Biden is at left.[Photo/Agencies]
HAVANA/WASHINGTON - The United States and Cuba on Wednesday formally agreed to restore diplomatic ties that had been severed for 54 years.
US President Barack Obama and Cuban President Raul Castro exchanged letters agreeing to reopen embassies in each other's capitals, with the Cubans saying that could happen as soon as July 20.
"This is a historic step forward in our efforts to normalize relations with the Cuban government and people and begin a new chapter with our neighbors in the Americas," Obama said from the White House Rose Garden.
US Secretary of State John Kerry, speaking from Vienna, said he would visit Havana later this summer to raise the US flag outside the US embassy, currently labeled the US interests section under the protection of the Swiss government.
"Cuba is encouraged by the reciprocal intention to develop respectful and cooperative relations between our two peoples and governments," Raul Castro, 84, Fidel's younger brother and Cuban president since 2008, wrote in his letter to Obama.
Following 18 months of secret negotiations brokered by Pope Francis and Canada, the two leaders announced separately but simultaneously in December that they planned to reopen embassies in each other's capitals and normalize relations. The agreement also included a prisoner swap.
With diplomatic relations restored, the United States and Cuba will turn to more difficult bilateral problems.