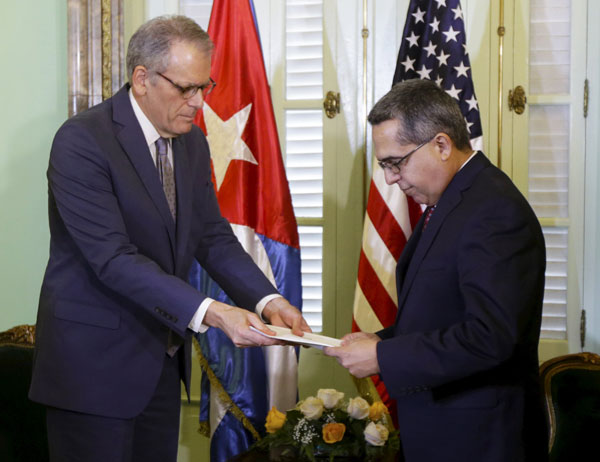 Chief of Mission at the US Interests Section in Havana Jeffrey DeLaurentis (L) delivers a letter, from US President Barack Obama to Cuban President Raul Castro regarding restoration of diplomatic relations, to Cuba's interim Foreign Minister Marcelino Medina in Havana July 1, 2015.[Photo/Agencies]
Cuba's government said in a statement that to have normal overall relations, the United States must rescind its comprehensive economic embargo of Cuba and return the naval base at Cuba's Guantanamo Bay, which it has leased since 1903. Cuba wants the 45 square miles (116 square km) restored as its sovereign territory.
Obama, a Democrat, has asked the Republican-controlled Congress to lift the 53-year-old embargo, but the conservative leadership in Congress has resisted.
The Cuban statement said the United States also needed to halt radio and television broadcasts beamed into the country and stop "subversive" programs inside Cuba, which the US says are intended to promote democracy in the one-party state.
Two years after Fidel Castro came to power, President Dwight Eisenhower closed the US embassy in Havana on Jan. 3, 1961, less than three weeks before President-elect John F. Kennedy took office.
By April of that year, Kennedy would authorize the US-organized invasion of Cuba by a force of Cuban exiles. The attack at the Bay of Pigs failed and reinforced Castro's standing at home and abroad.
In October 1962, Washington and Moscow nearly came to nuclear war over Soviet missiles stationed in Cuba.