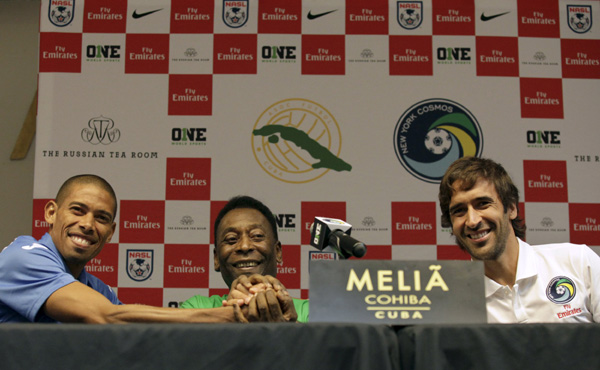 Cuba's soccer player Yenier Marquez (L), former Brazilian soccer star Pele (C) and New York Cosmos player Raul Gonzalez (R) join hands after a news conference in Havana June 1, 2015.  [Photo/Agencies]
HAVANA - Brazilian football great Pele said he was pleased Tuesday's friendly between the Cuban national team and his former club the New York Cosmos might help foster better relations between the United States and Cuba, which have embarked on detente.
The Cosmos have scheduled the first match of an American professional sports team in Cuba since the two countries announced in December they would seek to end half a century of animosity.
"It makes me happy that once again football is helping with peace, between United States and Cuba," Pele told a news conference on Monday to promote the match at Havana's 28,000-seat Pedro Marrero Stadium.
"We see unhappily that there are a lot of political problems everywhere. But football brings people together. For me it's a big responsibility," said Pele, 74, whose real name is Edson Arantes do Nascimento.
US-Cuban relations have been hostile, particularly in the early 1960s when the United States organized an invasion of Cuba by a force of Cuban exiles at the Bay of Pigs, and when Washington and Moscow nearly came to nuclear war over Soviet missiles stationed in Cuba.
Relations remained sour even after the fall of the Soviet Union until last December, when US President Barack Obama and Cuban President Raul Castro announced separately and simultaneously they would seek to improve ties.