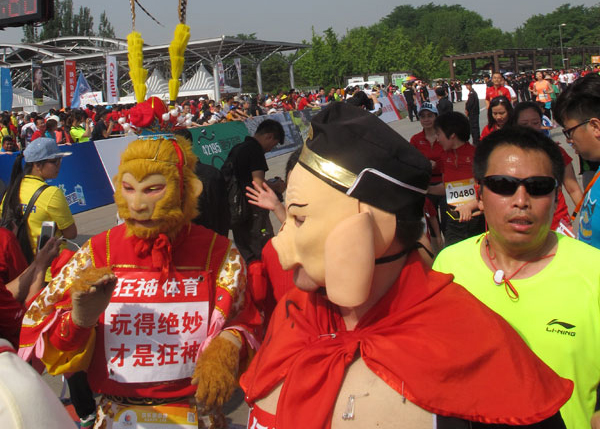 Two runners, respectively cosplaying the Monkey King (left) and Zhu Bajie (right), two characters from the Chinese literary classic, Journey to the West, finish the 3k race at the 2015 Happy 10k at the Beijing Olympic Forest Park on May 31, 2015. [Photo by Gao Qihui]
Over 5,000 running enthusiasts gathered for the 2015 Happy 10k, a running event held for amateur runners at Beijing Olympic Forest Park on Sunday.
Runners, including 309 children under 14, were divided into two groups for the 10 kilometer and three kilometer races.
The Beijing event is the third of 10 stops in the 2015 Happy 10k across China – that's twice as many stops than last year's five. Each stop is expected to draw 4,000-5,000 participants.
China has seen a huge growth in running. In 2014, more than 900,000 people took part in different running competitions across China, according to a survey released by the Shanghai Road Running Association. The number of regular runners in Shanghai has surpassed 200,000.
Codoon, a very popular sports community app among amateur runners, gained more than 10 million downloads in an Android market developed by Huawei, one of China's major domestic smart phone brands.