TIANJIN - China defeated South Korea 3-0 in the final to lift their Asian Women's Volleyball Championship title for the 13th time here on Thursday.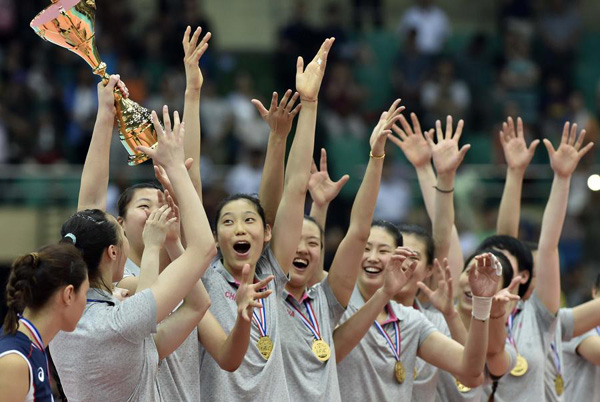 Chinese players celebrate after winning the Asian Women's Volleyball Championship title in Tianjin May 28, 2015. [Photo/Xinhua]
The hosts was 0-4 down at the start before Zhu Ting smashed the first point. South Korea kept the advantage and forced Jenny Lang Ping used two time-out this set. As Kim Yeokoung' s smash gave South Korea the 20-18 lead, China stormed six points to surpass and finished the set 25-21 with Zeng Chunlei's spike.
It' s Zhu Ting again who start China's scoring pace with a block. South Korea was 12-16 behind before they called a time-out. Then they had a five-point streak to take the lead 17-16. After exchanging advantages, Zhu Ting and Hui Ruoqi combined with four points to get the set point for China and South Korea lost 21-25 with a turnover.
China led all the way from the start of the third set. South Korea once came behind from 7-14 to 20-22. But Zhu Ting then spiked twice to give China the match point with 24-20. After Kim Yeokoung's last performance above the net, Zhu Ting smashed for the third time in a row and finished the match with another 25-21.
Zhu Ting led China with 21 points while Kim Yeokoung had a match-high 22. Both players were awarded as the best spikers and Zhu acquired the MVP of this year's Championship.
"This is a new start for us," said Lang Ping, head coach of China, "but we are on the same level with our opponents in Asia."
Thailand beat Chinese Taipei 3-0 in the bronze medal match. The rankings from the fifth to the eighth are Vietnam, Japan, Kazakhstan and Iran.