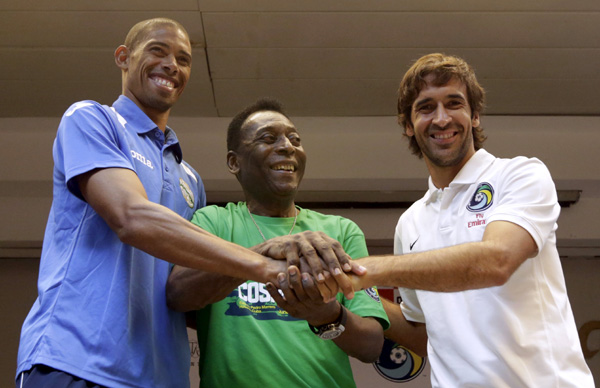 Cuba's soccer player Yenier Marquez (L), former Brazilian soccer star Pele (C) and New York Cosmos player Raul Gonzalez (R) shake hands after a news conference in Havana June 1, 2015.  [Photo/Agencies]
Since then, the United States and Cuba have held bilateral talks in both capitals and the two presidents have met face-to-face at a regional summit in Panama, moving them closer to restoring diplomatic relations.
"I hope this match will be one more step toward much better relations," said Raul, 37, the former Real Madrid striker and Spain team captain who is the international star in today's Cosmos.
The Cosmos became a sensation in the 1970s when they signed Pele and other international stars to play in the North American Soccer League (NASL). The league folded in the 1980s and was re-established in late 2009 as the second tier of US club football, below Major League Soccer (MLS).
Now the league hopes to make inroads into Cuba, where soccer is gaining on baseball as the country's most popular sport.
NASL Commissioner Bill Peterson said the match was a starting point to explore cooperation with on player development, coaching and officiating.
"Everything can be on the table and we'll take it one step a time and manage the relationship carefully," Peterson said.