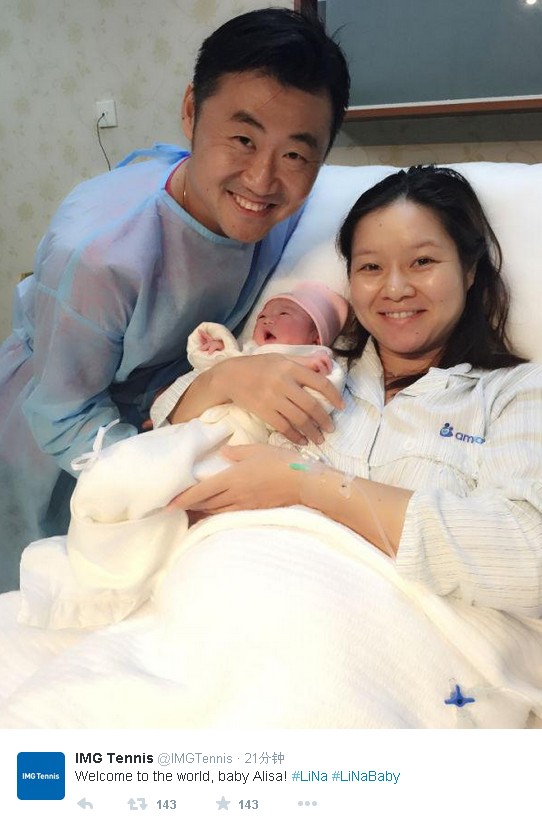 A photo grab of Li Na's Twitter account shows the couple with their new-born baby girl. 
Retired Chinese tennis star Li Na posted a photo of her newborn baby girl's foot on her Sina Weibo and Twitter account early on Wednesday. The baby is called Alisa.
The country and Asia's first grand slam winner announced her pregnancy during the Australian Open this January, only one year after she claimed her second grand slam title. She said the baby is the best gift she has ever received. Li also said she wants to be a housewife from now on. "Because of the tennis, I owe a lot to my family and now is the time for me to change."
June 3 is also the birthday of Spanish tennis star Rafael Nadal. June 4 is the date when Li Na lifted her first Grand Slam title from the French Open in 2011.
As a good friend to Li Na, Zheng Jie revealed that Li Na was in Beijing for the delivery. "Everything was the same except for a big belly for her (Li Na) when I saw her last month before I departed for the French Open," said Zheng, who reached the French Open mixed doubles semifinal on Tuesday.
Li Na reportedly played tennis when she was pregnant. Li said she didn't take tennis as "pre-natal education", but she will guide her child to take up sports, not necessarily tennis alone.
According to Forbes fortune list, Li Na had earned 442 million yuan RMB (70 million US dollars) out of prize and sponsorship in her peak period of 2010-2014.