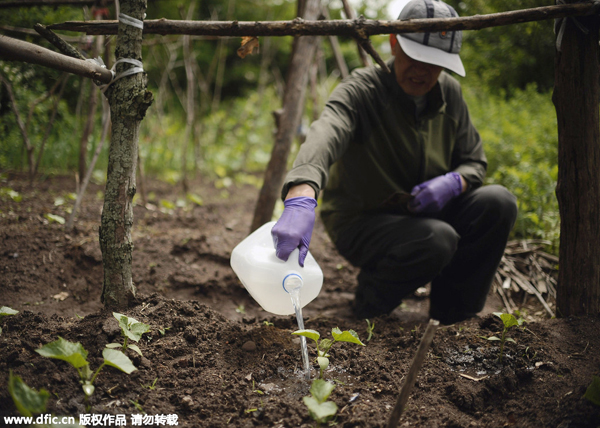 Wang Nairu waters plant in a garden on the northern edge of Yale University's campus. [Photo/IC]
The gardeners come from a mix of urban and rural areas and abide by a few unwritten rules. Fertilizer is allowed, but pesticides are forbidden. Remove watering cans and clean up in the fall. Find another family to work your patch when you leave New Haven.
The garden succeeds, Zhang said, because the gardeners belong to an older generation that has patience.
All the plants are edible. They include varieties of beans, scallions, tomatoes and cilantro that they eat or use to season dumplings and other dishes.
The produce, grown from seeds found in New York City's Chinatown and some local Asian markets, is shared with other Chinese families that live in the complex of two-story apartment buildings across the street from the garden.
Yale owns the land, which had been overgrown before a few families started the planting, and Yale grounds crews have provided compost to help the gardeners. The only issues, they say, have been occasional theft or vandalism.