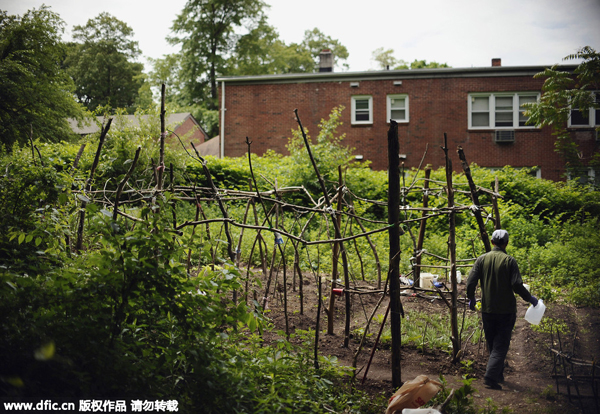 Wang Nairu carries water to a garden, in New Haven, Conn., June 4, 2015. The once-vacant city block, on the northern edge of Yale University's campus, where his daughter is a postdoctoral student, has been transformed into a garden of vegetables and spices, tended carefully by a community of grandparents from China. [Photo/IC]
NEW HAVEN - A once-vacant city block at the northern edge of Yale University now teems with exotic herbs and vegetables, tended carefully by a community of graying people from China who are here to look after grandchildren as their own children cultivate careers at the Ivy League school.
In the trellis-filled garden, a patchwork of small lots that are passed from family to family, they find friends, a routine for daily life in new surroundings and familiar vegetables that are fresher than anything they find in local markets.
"The sun is shining. I'm sweating. It's good," said 63-year-old Zhang Zaixian, of Beijing, who was watering chives one day as her grandson attended preschool. "I am happy."
The urban garden began taking shape a decade ago, a product of the expatriate community that has sprouted along with soaring numbers of students from China.
About a quarter of all international students at Yale come from China, which has become the biggest source country by far for international students in the United States. Yale had 680 international scholars, 516 graduate students and 58 undergraduates from China last year.