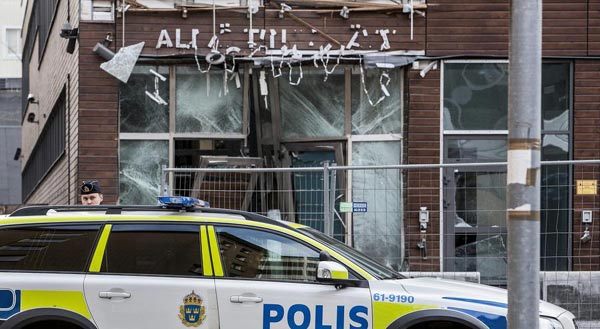 A police car is seen parked outside the bombed-out entrance of the "Rattscentrum" district court and police building in central Malmo, December 1, 2014. [Photo/Agencies]
STOCKHOLM - One man was injured in a suspected shooting in Malmo, southern Sweden on Saturday afternoon, just hours after a grenade attack in a residential area.
The man, who is in his twenties, managed to get to a local hospital and is in a stable condition. Police have questioned four people and are treating the incident as an attempted murder, but there are no official suspects, local media report.
"We received several reports about loud bangs believed to have been gunfire shots, and we sent a number of patrols over," Jimmy Modin of the regional Skane police, told newspaper Sydsvenskan.
A witness told the newspaper that two people riding a moped had driven up to a group of three who were standing on a parking lot. One of the people on the moped fired at least two shots, hitting a person once. The duo then reportedly fired another shot while driving away from the scene.
The incident took place just hours after the evacuation of an apartment block in Malmo when two hand grenades were thrown into the block early Saturday morning.
The grenades did not detonate and nobody was injured, but around 60 people were evacuated to a nearby school. The residents were later allowed to return home and police removed the grenades from the site.
However, in the afternoon, police cordoned off parts of the area again after finding a suspicious and potentially dangerous object in a car that was parked outside a healthcare center. Bomb technicians removed the object.
Police do not yet know if there is a link between the grenade attack and the shooting, newspaper Dagens Nyheter reported, but they are setting up a special task force to investigate the grenade attack.
There are suspicions that it could be linked to a series of severe criminal incidents that have rocked Malmo lately in late 2014, there was an explosion at a court house and there have been a number of incidents since the launch of the trial against the suspected culprits on June 8.