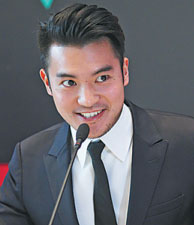 Ray Chen from Taiwan is a violinist touring with the national orchestra of Sweden. [Photo provided to China Daily]
The national orchestra of Sweden has completed a successful tour in China in celebration of the 65th anniversary of the establishment of diplomatic relations between China and Sweden.
The Gothenburg Symphony Orchestra was led by two-time Grammy award-winning US conductor Kent Nagano, together with violinist Ray Chen from Taiwan.
The Gothenburg Symphony Orchestra is world famous for its "Nordic sound", especially their renditions of work by Finnish composer Sibelius, says manager Johan Nordin.
The national orchestra was founded in 1905. It has been 16 years since it last toured China. The China tour is sponsored by Swedish automobile maker Volvo.
The orchestra presented Sibelius, Mendelssohn and Brahms' works, as well as Beast Sampler, a contemporary work composed by Swedish musician Anders Hillborg especially for the orchestra's China tour. The work was the opening piece for every performance.
The tour covered Macao, Guangzhou of Guangdong province, Hangzhou of Zhejiang province, Shanghai and Beijing.
The color and texture of sound the orchestra produces is remarkable. "When they play you see Scandinavia," says Nagano. "You can see the color of the sky and feel beauty of nature."
Working with the Gothenburg Symphony Orchestra has brought Nagano to a very different landscape from his home. He says that he feels he is experiencing part of Scandinavian culture.