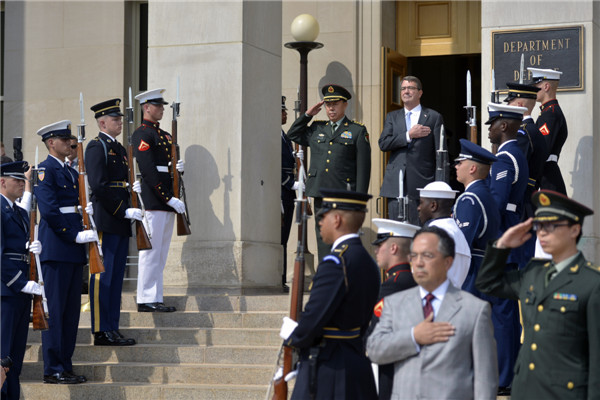 Chinese Central Military Commission Vice-Chairman Fan Changlong and US Secretary of Defense Ashton Carter salute as a US military band plays the national anthems of the two countries during a welcoming ceremony at the Pentagon on June 11. [Photo/Xinhua]
Experts say maritime issue won't lead to conflict because nations will protect shared interests
Following months of diplomatic clashes over the South China Sea, Sino-US relations seem to be headed for calmer waters after key events in the lead-up to a major meeting between the two countries.
The maritime tension may have been eased by a top Chinese military official's visit to the US this month, and by the fact that US President Barack Obama suffered a setback to his hopes of pushing through the Trans-Pacific Partnership - a development that might result in a renewed focus in Washington on its ties with China. The TPP is a proposed regional investment and regulatory treaty.
The South China Sea issue should not be an insurmountable obstacle between the two powers, observers said ahead of the latest China-US Strategic and Economic Dialogue, a meeting to be held in Washington from Tuesday to Wednesday.
Observers said that the South China Sea has become the front line of Sino-US diplomatic wrangling as the Southeast Asia region assumes increasing importance for Washington's Asia "pivot", and that backing down is not an option for either country.
But they dismissed the possibility that the islets in the sea are steppingstones on the path to war for the world's two largest economies. Both sides are pragmatic about their huge shared interests and will not allow the maritime issue, representing a fraction of the relationship, to substantially affect those interests.
State Councilor Yang Jiechi, a top foreign policy official, Vice-Premier Wang Yang, US Secretary of State John Kerry and Treasury Secretary Jacob Lew will attend the dialogue to address what the US State Department said are "challenges and opportunities that both countries face" in areas "of immediate and long-term economic and strategic interest".
It is a storyline that is repeated every year: a war of words between China and the United States over the South China Sea heats up for months until a climax is reached when senior military officials from both countries, among others, gather at the Shangri-La Dialogue, an annual Asian security forum held at the end of May.
There have been differences this year, including a new focus on China's construction work on some of its islands and reefs of the Nansha Islands and the involvement of a slew of big names, including the US president, the country's top diplomat and China's ambassador to the US, senior military officers and diplomats.