Talks seen as prelude to visit by President Xi to US in September
The US-China Strategic and Economic Dialogue (S&ED) meetings next week are expected to set the table for a positive state visit by President Xi Jinping to the United States in September, experts said.
"This S&ED's agenda and degree of success will be seen by both sides in this context, as to whether it sets the agenda, sets in motion, the processes that will increase the chances of a positive state visit, or positive atmosphere of a state visit," said Kenneth Lieberthal, senior fellow at the Brookings Institution.
Lieberthal, joined by Cheng Li and David Dollar, also senior fellows at Brookings, spoke on a panel on about the S&ED on Wednesday in New York. The event was hosted by the National Committee on US-China Relations.
Lieberthal said that he expects the US and China to address cyber security and the South China Sea - two issues that have been contributing to mutual distrust between the two countries -at the meeting in Washington from June 23-24.
On cyber security, he said that the US and China need to establish peacetime norms of mutual restraint "for helping to determine whether something that occurs in peacetime is a violation of those norms".
Daniel Wright, a nonresident senior fellow with the John L. Thornton China Center at Brookings, said the fundamental logic of the US-China relationship needs to be refreshed.
The S&ED, and more importantly President Xi's September visit, provide timely opportunities to begin to update that rationale, not only with words, but with action, he said.
Established in 2009 by President Barack Obama and former president Hu Jintao, the annual S&ED is the highest-level bilateral meeting between the two countries. Delegations from both sides discuss issues related to regional and global economics, trade and investment.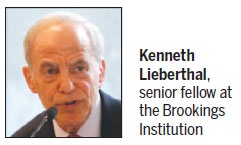 The meeting is held annually at capitals alternating between the two countries.
The State Department said that US Secretary of State John Kerry and Treasury Secretary Jacob Lew will join State Councilor Yang Jiechi and Vice-Premier Wang Yang for the seventh round of the S&ED.
Kerry also will participate in the US-China High-level Consultation on People-to-People Exchange with Vice-Premier Liu Yandong.
Dollar, an economist, said that he does not anticipate many economic outcomes at the conclusion of the S&ED.
Key on this year's S&ED agenda will be the Bilateral Investment Treaty (BIT), which concluded its 19th round of negotiations in Beijing last week.
In an April speech in Washington, Nathan Sheets, the Treasury undersecretary, dismissed the characterization of the BIT talks as slow. He cited the broad and far-reaching content being discussed and expressed optimism about making meaningful progress in a relatively short period of time.
Many believe the BIT will unlock huge new opportunities for bilateral investment and trade.
Chen Weihua in Washington contributed to this story.
amyhe@chinadailyusa.com
(China Daily USA 06/18/2015 page1)