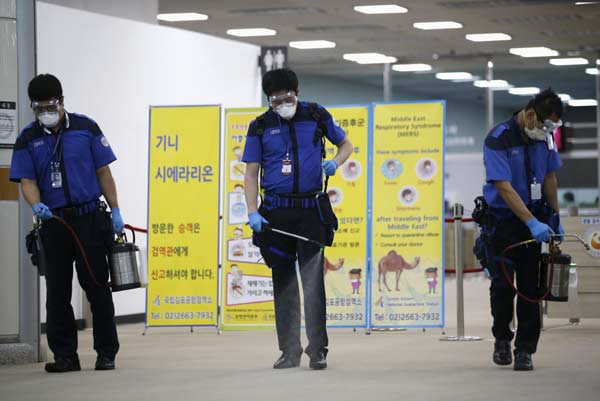 Employees from a disinfection service company sanitize the floor of Gimpo International Airport in Seoul, South Korea, June 17, 2015. [Photo/Agencies]
LONDON - The World Health Organization says the spread of a mysterious virus from the Middle East to South Korea doesn't merit being declared a global emergency despite infecting more than 150 people in the biggest outbreak outside the Arabian peninsula.
In a statement issued Wednesday, the UN health agency called the epidemic "a wake-up call" and warned all countries to prepare for potential outbreaks of the Middle East respiratory syndrome, or MERS.
Nearly three years after MERS was identified, scientists are still unsure how people are catching it or where it originated, although they suspect the disease is linked to camels. WHO recommends that people avoid contact with the animals, not drink camel milk or urine and only eat camel meat that has been well-cooked.