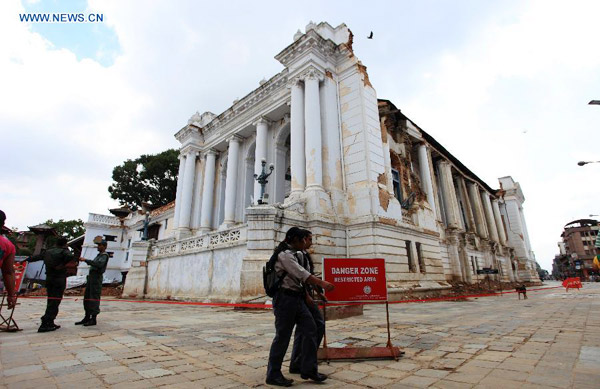 College students walk pass a "Danger Zone" board in front of ruined Gaddi Baithak Palace at the UNESCO Heritage site of Hanumandhoka Durbar Square in Kathmandu, Nepal, June 16, 2015. Nepal reopened damaged world heritage UNESCO monuments on Monday that were closed since the deadly April 25 earthquake, highlighting the message that "Nepal is safe and open for tourists." [Photo/Xinhua]
KATHMANDU - More than fifty days since the massive earthquake struck the region, the Nepalese government reopened areas of its Kathmandu UNESCO World Heritage sites and declared the nation reopen to overseas visitors from Monday.
The world heritage sites like Basantapur durbar square, Patan durbar square and Bhaktapur durbar square, Swoyambhunath, Bouddhanath and the Pashupatinath temple, which are the symbols of country's history and culture have been opened and considered safe.
When the Minister for Culture, Tourism and Civil Aviation Kripashur Sherpa formally re-opened the heritage sites, announcing "Nepal is open for tourists," the mood of the nation, particularly those in the tourism industry, palpably lifted.
"We want to tell the world that Nepal is safe and we are open for tourists. We want to appeal to people to visit Nepal to see our unity in adversity and the socio-cultural solidarity. Visit us to help us rebuild," Minister Sherpa said at an address in Bhaktapur durbar square.
On the reopening day, the scene of the ancient and historical Bhaktapur looked different with most of the monuments destroyed. There also used to be around 800 foreign tourists every day in Bhaktapur durbar square, located some 12 kilometers east from Kathmandu.
But it is unfortunate for this small Himalayan nation that a single tourist could not be found in the area on the morning of June 15.
These major attractions of the capital were extensively damaged by the April 25 and May 12 disasters. These places were immediately prohibited for tourists and even for the public for a few weeks after the disaster.
A total of 741 ancient sites including temples, sattal, matha, old palaces and the like were destroyed, including complete and partial damage in the quake.
However, at a time when tourist-related businesses are claiming that around 99 percent of hotel bookings have been canceled until September, the opening of these heritage sites has provided a new hope to the revival of their businesses.
Birendra Shrestha, Guest Relation Officer at Patan Museum Cafe located inside the Patan durbar square premise told Xinhua, "The government should promote Nepal saying that it is a safe destination, so that we can get tourists to visit from next season. Otherwise we have to wait for another season with zero business."
The cafe that used to cater to innumerable tourists in recent history served only 7 customers on Sunday, the opening day after the April 25 quake.