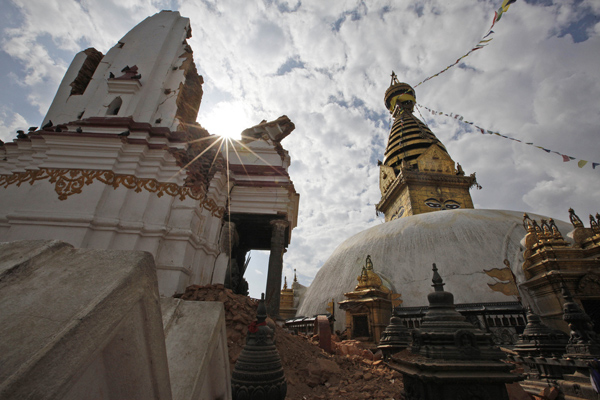 This April 30, 2015 photo shows a view of the famous Swayambhunath stupa after it was damaged in the April 25 massive earthquake in Kathmandu, Nepal. [Photo/IC]
KATHMANDU - Nepal's Ministry of Culture, Tourism and Civil Aviation has come up with an action plan for the protection and reconstruction of heritage sites damaged by the deadly April 25 quake and its aftershocks, local media reported Monday.
At a meeting arranged by the International Relations and Labor Committee of the Parliament to discuss the quake-caused damage to heritage sites of archeological importance and future plans for their refurbishment, Deepak Chandra Amatya, minister for culture, tourism and civil aviation said that the ministry has prepared a three-phase plans, short-term, mid-term and long-term, for the protection of damaged heritage sites, local newspaper the Rising Nepal reported.
Prabhu Shah, chairperson of the committee, underscored the need of collecting complete details of damage to cultural heritage sites caused by the recent quakes and intensifying a search operation for the missing objects, adding that experts' feedback are necessary in carrying out reconstruction works.
Naryanman Bijukchhe, a lawmaker, said historic and ancient form of heritage sites should be maintained while reconstructing the damaged monuments.
According to Nepal's Department of Archeology, of 581 heritage sites in the Himalayan country, 137 were devastated an 444 sustained partial or minor damage in the earthquakes.