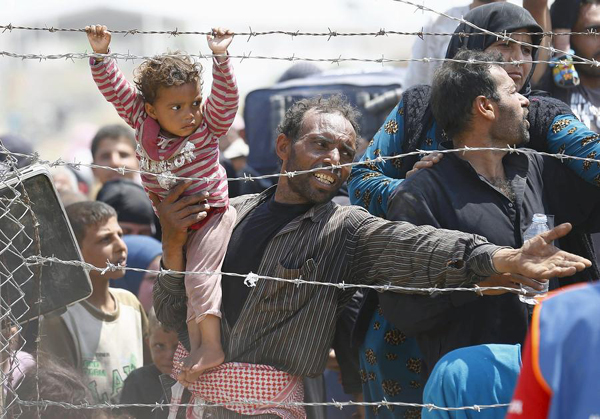 A Syrian refugee reacts as he waits behind border fences to cross into Turkey at Akcakale border gate in Sanliurfa province, Turkey, June 15, 2015. [Photo/Agencies]
ANKARA - As many as 2,800 Syrian refugees have flocked into Turkey in the latest surge of people fleeing fighting between Kurdish forces and Islamic State (IS) militants in Syria's Tel Abyad town, Anadolu Agency reported on Monday.
The latest influx of Syrian refugees started Sunday through the southern Akcakale border gate, according to a statement by the Turkish Prime Ministry Disaster and Emergency Management Presidency on Sunday.
Over the last two weeks, YPG, the military wing of the Syrian Democratic Union Party, has been carrying out operations against IS forces with the help of US-led coalition airstrikes in the northeast Syrian districts of Tel Abyad and al-Hasakah.
Since the operations began, almost 15,000 civilians from adjacent villages and towns have crossed the border into Turkey's southeastern Sanliurfa province, official said Friday.
IS militants had attempted to prevent civilians from crossing into Turkey, forcibly ordering them to move back to Tel Abyad.
Late on Sunday, Turkish Foreign Minister Mevlut Cavusoglu ordered an ad hoc meeting of the Parliamentary Assembly of the Council of Europe on the large-scale arrival of Syrian refugees in Turkey.
"Turkey has spent more than 6 billion US dollars so far for the refugees. The international community's help is only 300 million dollars. The burden must be shared," Cavusoglu said during the meeting.