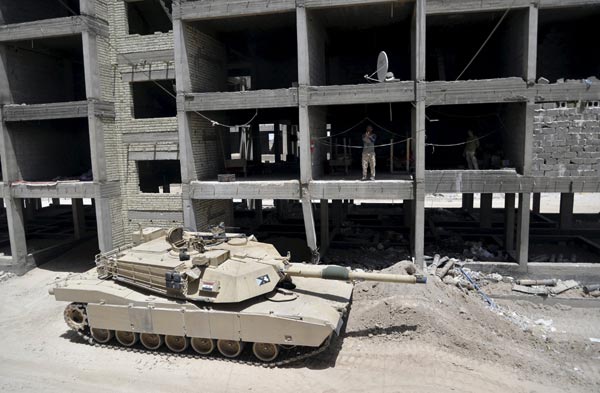 A tank of the Iraqi army is seen on the outskirts of the city of Falluja, Iraq, May 19, 2015. [Photo/Agencies]
WASHINGTON - US and partner-nation military forces continued to conduct airstrikes against the Islamic State (IS) forces in Syria and Iraq over the past two days, the US Defense Department said Tuesday.
Fighter and bomber aircraft conducted a total of seven airstrikes in Syria and 14 airstrikes in Iraq, said a statement from the department.
Airstrikes in Syria's Al Hasakah region destroyed four IS tactical units, seven IS vehicles, three IS fighting positions, two IS armored vehicles and an IS shipping container, the statement added.
Meanwhile, airstrikes in Iraq's Qaim, Beiji, Tal Afar, Sinjar, Fallujah and Ramadi destroyed eight IS tactical units, seven IS fighting positions, four IS vehicles, three IS heavy machine guns, two IS excavators, an IS staging area and an IS rocket firing position.
Coalition nations conducting airstrikes in Iraq include the United States, Australia, Belgium, Canada, Denmark, France, Netherlands and the United Kingdom. Coalition countries conducting airstrikes in Syria include the United States, Bahrain, Jordan, Saudi Arabia and the United Arab Emirates.