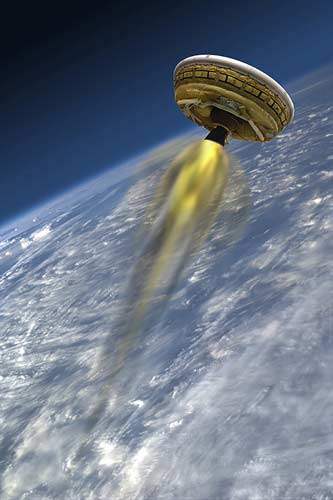 An undated artist's concept shows the test vehicle for NASA's Low-Density Supersonic Decelerator (LDSD), designed to test landing technologies for future Mars missions. [Photo/Agencies]
HONOLULU - A parachute inflated during a test of new technology for landing larger spacecraft on Mars, but it then disintegrated immediately afterward, NASA officials said Tuesday.
The parachute appeared to rupture after it deployed, said Steve Jurcyzk, the associate administrator for the agency's Space Technology Mission Directorate. The agency will study why that happened and make changes to develop a parachute that won't fail, he said.
Monday's test off the Hawaiian island of Kauai was investigating technology designed to slow down a large landing vehicle falling through the atmosphere at supersonic speeds.
Another giant parachute failed to inflate during a similar NASA test last year. One of the main goals this year was to test the redesigned parachute.
"We very much want to have these failures occur here in our testing on Earth rather than at Mars," Jurcyzk told a telephone news conference. "And so it's a success in that we were able to understand and learn more about the parachute so that we can get confident and have highly reliable parachutes for when we have a large mission going to Mars where we can't do anything about it."
Monday's flight test was the second of three NASA plans for the project.
NASA needs new technology if it wants to send heavier payloads and humans to Mars. The agency has been using the same parachute design to slow down vehicles landing at Mars since the 1970s, when it sent Viking landers to the red planet.
The parachute tested off Hawaii was 100 feet (30 meters) in diameter, about twice as big as the one that carried the Curiosity rover to Mars in 2012.
The experimental technology won't be used on missions anytime soon. NASA may decide not to use it if fails the test.
NASA has said it wants to send astronauts to Mars in the 2030s.